What is Sheer Mineral Makeup?
Sheer mineral makeup is a translucent or tinted powder meant to give the appearance of a flawless, untouched complexion. This highly popular form of makeup is relatively new in the cosmetic world, yet according to some experts is easily replacing or at least competing with traditional liquid and pressed powder formulas. Proponents suggest that not only does sheer mineral makeup offer excellent coverage without appearing chalky or obvious, its composition actually prevents skin clogging and resulting breakouts.
Facial cosmetics have existed since ancient times, yet the beauty world has reached new heights in the modern era. Foundation or base makeup is a common first step to any makeup application, meant to cover skin imperfections and give the wearer a blank, clean canvas on which to apply other products such as blush and eye makeup. Until the end of the 20th century, most popular foundations were either in a liquid formula or a compacted powder. Sheer mineral makeup, by contrast, is a loose powder applied with a brush to help control blending and coverage.
While liquid formulas can offer fantastic coverages for blemishes and dark circles, some skin types may cause the foundation to melt or set unevenly. Pressed powder may be better for people with oily skin, but can look chalky and may not cover blemishes adequately. Sheer mineral makeup aims to combat these problems by creating a product with the blending abilities of powder and the coverage of liquid.
Available in dozens of colors to match all skin tones, sheer mineral makeup also can allow easy mixing of shades if one does not match skin perfectly. The sheer or lightly tinted formula allows natural skin color to show through, making the completed look appear closer to normal skin. Many users also like that sheer mineral makeup does not feel heavy on the face, and can be blending in finely or layered more for problem skin.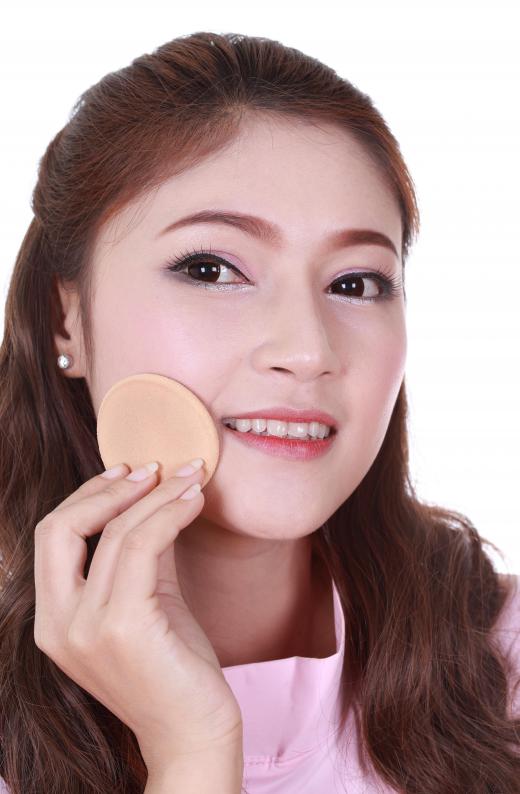 In addition to foundation and concealer, many sheer mineral makeup companies also offer blush, eye shadows, bronzer and highlighting products in similar loose powder forms. While more heavily saturated with color pigments, these products retain the easy blending qualities that help ensure a natural look. Some sheer mineral makeup products even feature a built-in sunscreen for protection from harmful rays.
Sheer mineral makeup is now a commonplace item at beauty stores and makeup counters. Comparable in price to other foundations, this makeup can be excellent for daily use and usually boasts that it can be worn daily, or even to bed, without harming the skin in any way. For those dissatisfied with their usual brand of makeup, this modern beauty innovation may be well worth a try.
AS FEATURED ON:
AS FEATURED ON:






By: Viktor Pravdica

A woman has mineral makeup applied to her face.

By: studiovespa

Mineral eyeshadow is a popular choice for people who want more natural makeup.

By: geargodz

Foundation, which covers up perceived skin blemishes, is the first step to applying makeup.