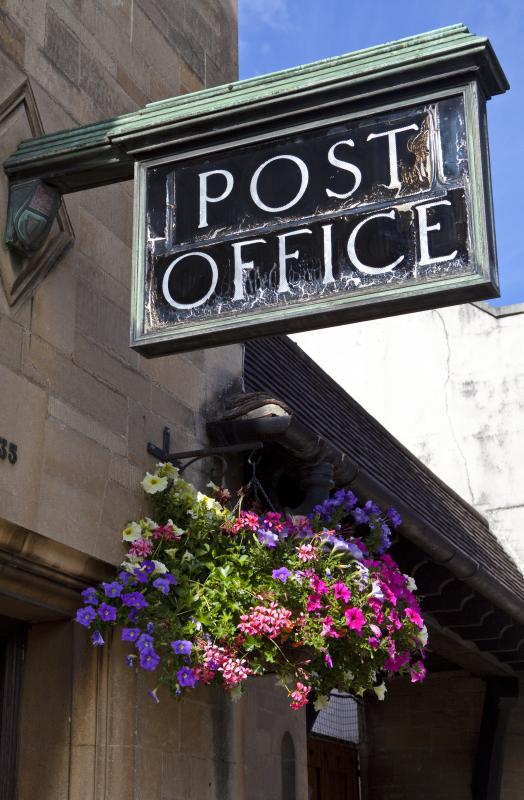 A postal clerk is a customer service representative at a government post office. Most clerks assume several daily duties, including greeting customers, assisting them with shipments, and selling stamps and other goods. In addition, a postal clerk cancels and sorts incoming mail, ensuring that letters and packages are ready to be shipped to their appropriate destinations. Clerks generally work standard hours, but overtime and overnight shifts are common during busy times around holidays and tax return deadlines.
When a customer wants to ship a package, a postal clerk typically weighs the item and calculates the appropriate postage. He or she may ask about the contents of the box or envelope to make sure it can legally and safely be mailed. The clerk confirms the recipient's address and the return address and estimates how long it will take to reach its destination.
Most types of mail can be insured or certified by the postal service, and the clerk usually explains the benefits of such options to the customer before accepting payment. He or she can also offer to sell stamps, packing tape, labels, and other items. Once a transaction is completed, the postal clerk cancels mail by stamping packages and feeding letters through automatic canceling machines. Items are usually weighed once more and then set aside to be processed later.
Some postal clerks spend all of their time behind customer service desks, but many professionals perform back room duties as well. Bags, crates, and boxes of outgoing mail must be sorted by weight, type, and destination. A postal clerk sorts local mail for carriers to take on their routes and codes out-of-town packages that need to be sent to other offices. He or she also checks the quantities of advertisements and other types of mail that go out to every household.
The requirements to become a postal clerk vary between regions. Most government employers require applicants to be at least 18 years old and hold high school diplomas. Previous work experience in customer service jobs can be very helpful in finding an entry-level position with a post office. In order to ensure that new clerks are ready for the responsibilities of the job, many employers require workers to take training courses and pass written or computerized exams before they are allowed to work directly with customers. Experienced clerks may be able to pursue advancement opportunities, becoming office supervisors, regional managers, or mail carriers.
By: chrisdorney

Postal clerks work in post offices.

By: Friedberg

Postal clerks may sort mail into individual post office boxes.