What is a Medical Billing Clerk?
A medical billing clerk is a person who processes medical bills for a medical facility. Generally, the clerk may work at a doctor's office, outpatient center or hospital. Most will be assigned to the business department of an establishment. Commonly, this is listed as an entry-level job. This usually means that an individual will only need a high school diploma to hold this position.
In most cases, a medical billing clerk is the person responsible for tallying the fees owed for services rendered at a medical center. For this reason, a person in this position will need to be familiar with the billing codes used by the facility for which he or she works. This is important because the clerk will generally rely on these codes to assign the correct charges. From data gathered, the clerk may then be able to perform one of the most common tasks of a billing clerk, preparing and sending out billing invoices. In most cases, the invoices will list the services rendered, the amount owed and the date payment is due.
When an individual receives any type of medical service, one of the first questions most commonly asked is in reference to the type of insurance the patient has. This very important information is generally passed on to a medical billing clerk for usage. The clerk can use this information to contact insurance companies, if needed, to confirm which charges will be covered by the company and which will not. Any charges not covered through insurance will typically be compiled into a bill prepared by the billing clerk and sent to the patient.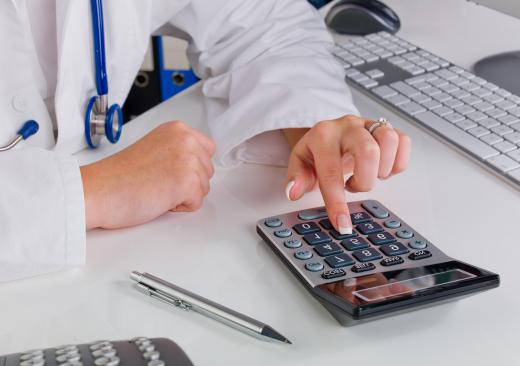 If a person receives a bill for which he or she has questions, the medical billing clerk is typically the individual to address such inquires. The clerk may spend a great portion of her day explaining invoice entries, what they mean and their charges. In the event that an error is found, the clerk is generally responsible for correcting the discrepancy. She may then need to reissue a new bill and follow up to ensure it was received. With data being such an important part of this job, medical billing clerks may dedicate a significant amount of time ensuring that their data is correct and up to date.
Work days can be versatile for a medical billing clerk. Most days may include data entry, updating and filing medical records and speaking with insurance companies. Some clerks may spend portions of the work day meeting face to face with patients and family members with billing questions. The working environment may also vary. Many medical billing clerks may work in an open area of a business department of a medical facility while some may have their own office.
AS FEATURED ON:
AS FEATURED ON:






By: zimmytws

To become a medical billing clerk, a person must have a high school diploma or equivalent.

By: Gina Sanders

After a medical service is provided and recorded with the appropriate code, a bill needs to be created so that the health care provider or facility can get paid.