What is a Mini Face Lift?
A mini face lift is a shortened term for a noninvasive face lift procedure. It involves using a small incision around the ear to improve sagging jowls, sagging cheeks and a droopy neck line. The mini face lift is a quicker procedure than a regular face lift, and that makes the recovery time faster. The mini face lift is geared toward people in their 30s and 40s who are just starting to show signs of aging but do not want to undergo major facial surgery.
The mini face lift is sometimes called the weekend face lift because the procedure and recovery time is quicker than a full face lift. The recovery period for a mini face lift is about a week or less, because it is a relatively quick procedure that is done with small incisions. Sometimes, this type of face lift will be done without general anesthesia and can be completed in less than an hour, depending on the patient's specific procedure.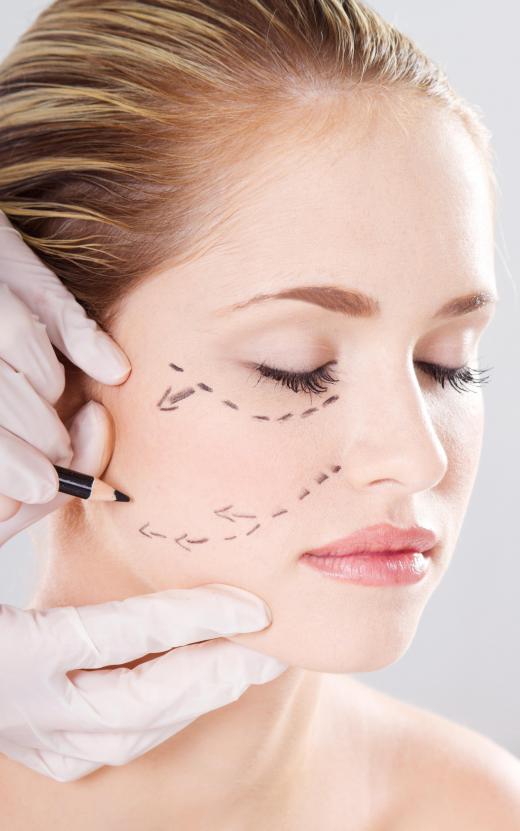 A patient undergoing a mini face lift will have three or more small incisions made around each area that will be treated, and the incisions are used to remove excess skin and fat. Then, muscles are reshaped and the skin is closed. Sometimes a tiny camera is used under the skin, as are other endoscopic instruments.
The results of this procedure include smoother skin and reduced sagging of the neck, jowls and cheeks. I can help the patient look 10 to 15 years younger and can undo some of the signs of time and gravity. It will improve the appearance and vitality of the skin. The mini face lift is geared toward men and women in their 30s and 40s who are looking for a quick procedure to keep deep wrinkles and other signs of aging at bay.
When a person is seeking cosmetic surgery, he or she should have a consultation with a surgeon to discuss the desired changes. Not every patient will benefit from a mini face lift procedure, and the doctor should discuss this during the initial consultation. For people who already have deep wrinkles, a mini face lift will not eliminate them. A person looking for improved brow and forehead lines and those people looking for drastic changes will not benefit from a mini face lift because it targets minor issues in the lower portion of the face.
AS FEATURED ON:
AS FEATURED ON:






By: michaeljung

A woman preparing to get a mini face lift.