What is a Magazine Sweepstake?
A magazine sweepstake is a contest for money that has at its heart the goal of getting people to become magazine subscribers. There are several of these sweepstakes in different countries. Those best known in the US are the Readers' Digest® and Publisher's Clearing House® contests. American Family Publishers® was another example of the magazine sweepstake, but it is no longer in the sweeps business.
The principal way that a magazine sweepstake works is that people are sent a letter telling them they could win a specified amount of money. With this letter is an offer to subscribe to varying magazines. Sometimes these letters appear to imply that purchasing a subscription is necessary to be entered in the contest. This is actually not true, since paying to enter a contest would violate regulations that concern lotteries. However, before signing up for a magazine sweepstake, people have to carefully read the fine print to make certain they don't accidentally subscribe to a magazine they don't want.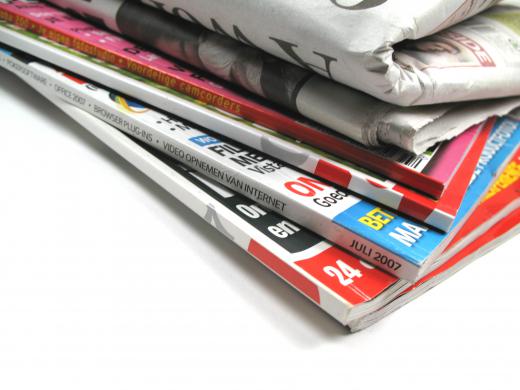 The first offer to enter the contest is usually followed by several other offers, all with magazine sales information attached to them. In order to maintain valid entry, people may need to fill out each new contest entry form to stay eligible. Letters from the company running the magazine sweepstake can be a bit deceptive, and in fact, both Readers' Digest® and Publisher's Clearing House® have been sued in the past due to unclear wording, which made people think they had to buy something in order to participate. Letters are also exciting, with boldface type announcing: "You could win!" and a specific amount of dollars named.
When a magazine sweepstake is legitimate, someone ultimately wins the top prize and a few others may win small amounts of money, merchandise or gifts. In this respect both Readers' Digest® and Publisher's Clearing House® do honestly give away money each year. Odds on winning that money correspond to number of entrants, and the likelihood of winning is pretty poor. Staying in the game by completing multiple entry forms can be challenging too, and the money given out could be viewed as investment in an aggressive advertising campaign to potential magazine customers.
A number of people who do enter do order magazines, which profits the company running the sweeps. Contest entrants may find there are some fairly reasonable prices for magazine subscriptions. They may view entry in a sweepstakes and the chance to subscribe to magazines in a positive way. Many are certainly devoted to entering these contests each year, and this is of benefit to the businesses that run them.
AS FEATURED ON:
AS FEATURED ON:






By: mark huls

Magazines.