What are the Different Types of Internet Sweepstakes?
Internet sweepstakes are online contests that allow people to enter a variety of contests to win prizes. Sweepstakes contest are often grouped by age, interests, products or the value of the prizes. The value of prizes can range from a small amount up to thousands of US dollars or more. The sweepstakes can represent a one-time offer, or it might be ongoing on a monthly or weekly basis.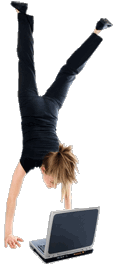 Some of the higher-end prizes offered include cars, motorcycles, trucks and vehicle-related items such as accessories and gasoline. Winners must be sure to understand that taxes must be paid on these and other expensive prizes. It is better for participants to know this beforehand than to suffer the disappointment of winning a prize only to learn that they cannot afford the taxes.
Another form of sweepstakes involves testing products to receive prizes or cash. To enter these sweepstakes, one must simply provide demographic information in order to receive invitations via email. Participants should be sure to read the invitation to understand what kind of prize is being offered.
Some contests offer prizes for creative people. Those who enjoy writing, photography, Web design, video production and even cooking can enter contest that offer prizes for work in these areas. There are even contests that are geared toward children or teenagers.
Playing or operating Internet sweepstakes can come with a tangle of complicated rules and laws. The global reach of the Internet further complicates these rules, because multiple countries are involved. One should always carefully read the rules and terms before entering any sweepstakes. A legitimate sweepstakes will clearly list the rules, odds of winning, when winners will be announced and how to get a list of winners.
Companies sometimes offer Internet sweepstakes to increase traffic to their websites or to increase interest in their products. Some contests require entrants to agree to receive email newsletters and other offers. These lists could be sold to other companies that send out email alerts, as well. Again, participants should read the fine print of the sweepstakes rules.
It is always wise to use caution when playing Internet sweepstakes games. Some of them are scams. A scam often involves a request for bank account information or other personal information. A consumer advocacy organization can be used to check out any sweepstakes operation before any personal information is provided.
Some sweepstakes companies that are fraudulent will operate from countries separate from where the intended participants live. This happens partly because it is difficult to find and prosecute criminals located in another country. These companies often attempt to reach people through unsolicited emails.
Sweepstakes companies that require fees or purchases should be avoided. In some countries, it is illegal to require a purchase or suggest the chance of winning is greater if a purchase is made. This can apply whether there is an outright request to make a purchase or the message is subtle.