What is a Home Inspectors Association?
A home inspectors association consists of a group of individuals who have entered into an agreement with each individual consenting to conduct home inspections according to the association's guidelines. Typically, these associations are non-profit organizations that work to develop licensed and certified home inspectors by setting practice standards and ethics codes for home inspections. A large number of home inspectors associations exist. Some are international or national while others are provincial, statewide, or local.
To obtain membership in a home inspectors association, individuals are usually required to meet certain standards of practice. This is often tested by the association through a home inspectors examination. In addition, members may have to agree to adhere to a code of ethics established by the association. Generally, members must also pay an annual membership fee and take a certain number of continuing education courses each year. Some associations require members to take ongoing examinations in order to maintain their membership.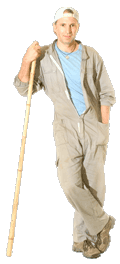 Usually, the key goal of a home inspectors association is to ensure that both quality and consistency are attained during home inspections. Association members are given credibility as well as objective standards for evaluating a home's condition and determining whether the home can be sold. For home buyers, this likely means they will be better protected when purchasing a residential property.
One of the primary functions of a home inspectors association is to provide members with home inspector training courses and certifications. The requirements for a certified home inspector vary from association to association. Even if an association certifies a member, in some jurisdictions, other steps may need to be taken before an inspector can be formally licensed. For example, some government agencies have instituted additional requirements for becoming a licensed home inspector.
In general, a licensed home inspector is usually required to complete online or classroom courses, followed by an inspector's exam. This may take several weeks to several years to complete, depending on the home inspector certification being sought. Most associations also require members to complete a minimum number of home inspections before receiving their certifications.
In addition to providing training opportunities, a home inspectors association can offer members a number of other benefits. For example, members are often listed in the association's online or print directories. This can help an inspector bring in new customers. Home inspectors associations may also give members general information on running a business, such as courses and materials on marketing, advertising, or optimizing profits. A home inspectors association can provide members with other resources such as a sample home inspection agreement, discounts on tools and equipment, and a member hotline.
AS FEATURED ON:
AS FEATURED ON:






Worker