Gel sanitizer is fairly easy to find these days. Often called waterless handwash or hand sanitizing lotion, it is typically comprised mostly of rubbing alcohol, and may contain a small amount of water, and other products like aloe vera. Some formulations have an antibacterial element too, though this has been found largely unnecessary since the rubbing alcohol kills most bacteria. In addition to being able to find sanitizer at places like grocery or drug stores, it may be used in schools, and is frequently found in large dispensers in hospitals and other medical settings.
Many studies on gel sanitizer suggest it works well in fighting germs, and may be almost as effective as handwashing. Hospitals have slightly different regulations regarding its use and typically recommend that employees use gel sanitizer four or five times and then make sure to thoroughly wash the hands in soap and water. In other settings, gel sanitizer may be superior to handwashing. In many schools, for instance, where there is not hot water available to wash the hands, alcohol handwash could be more effective than cold water and soap.
It's certainly agreed that gel sanitizer can be convenient. People can carry small bottles in a pocket or a purse. Larger size bottles, which can be purchased inexpensively, might be useful in homes and cars, or as refills for personal-sized bottles.
The sanitizers might not only be used to sanitize the hands, but also to sanitize surfaces. Application of gel sanitizer on a dirty table or desk with a paper towel for rubbing may rid the surface of most types of viruses and bacteria. In the home, sanitizer could clean a TV remote, a doorknob, or a stair rail that has been recently touched by someone who is ill. Since the product evaporates quickly with a little rubbing, some believe it may be safe to use on inexpensive electronic equipment, though care should still be taken if moisture is added to electronics.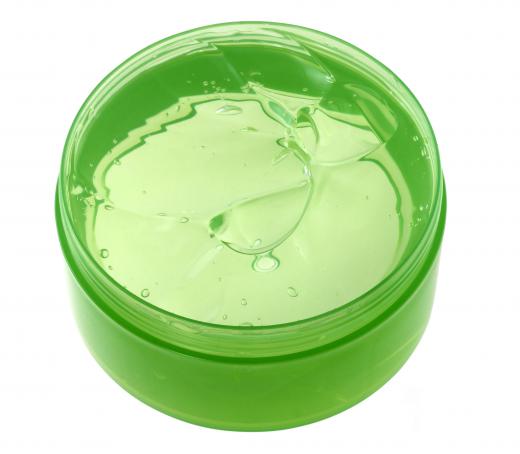 There are a number of online recipes to make gel sanitizer at home. It should be noted that some of these recipes don't use alcohol, but instead use witch hazel. Whether they are as effective as commercial preparations is not fully known, though some of them may be a little less hard on the hands.
One of the complaints about gel sanitizer is that repeated use can cause drying of the hands. People can look for types that have extra moisturizing ingredients, and a few companies make sanitizers in cream or mousse form, which might prove less harsh. In the absence of these choices, folks might want to follow up waterless handwash use with a little bit of moisturizer.
AS FEATURED ON:
AS FEATURED ON:






By: Simone Andress

Gel hand sanitizers are used to kill bacteria and germs.

By: sassyphotos

Gel sanitizers may contain aloe vera.

By: dianamower

Witch hazel is sometimes an ingredient in sanitizers.

By: SeanPavonePhoto

Gel sanitizer may be used to clean a television remote.

By: CandyBox Images

In most cases, antibacterial gel sanitizers should not be used to cleanse delicate facial skin.

By: Elenathewise

Gel sanitizer is usually made mostly of rubbing alcohol.