What is a Freelance Copywriter?
A freelance copywriter is a writer who creates text, or "copy," for the purposes of information, entertainment or advertising. While some copywriters are salaried employees of a single company, freelancers are independent consultants who often work for multiple companies at the same time. The freelance copywriter has been part of the communications industry since the 19th century.
Copywriting is a discipline similar to journalism, and many copywriters come from the same educational backgrounds as journalists. Rather than focusing on the literary and emotional content of a passage of text, as prose authors do, copywriters focus on imparting essential information in the styles mandated by their employers. A freelance copywriter will need to master multiple style requirements and be flexible enough to switch among them as required.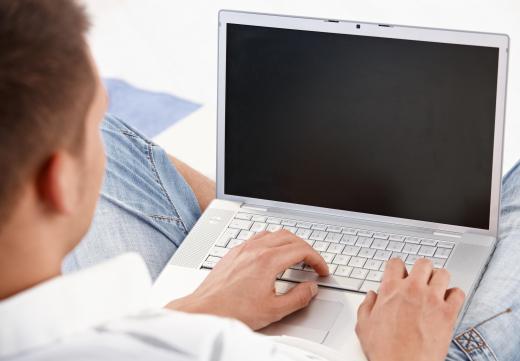 Advertising copy, for example, is written to persuade consumers that a product or service is superior to alternative brands that, in reality, are often essentially the same. It may require an exaggerated or humorous approach that sometimes disregards the fine points of grammar. News copy, on the other hand, must present facts in an impartial manner that is concise and grammatically correct. A freelance copywriter may be required to write in either of these formats or others.
The term "copy" is used most often in the advertising and journalism fields. It also can be used in a broader sense to refer to any written text. For example, proofreaders and other media professionals may refer to the manuscript of an unpublished book or the script of a radio announcement as "copy." The term "copy editor" refers to the people who edit the copy, regardless of the type, and the copy editor's job is similar to that of a proofreader, though there are differences.
Freelance copywriting first became a viable occupation in the 19th century, when written text was the primary means of communication for mass media. Famous authors such as Theodore Dreiser and F. Scott Fitzgerald started out as freelance copywriters. Newspapers and advertisers would hire freelancers to create fill-in copy while salaried staff members were busy with more substantial pieces. After the advent of television and radio in the 20th century, the freelance copywriter played a similar role for these new media.
The Internet created new opportunities for the 21st century freelance copywriter. Numerous companies hired freelancers to create articles that would appear in general web searches. This required copywriters to master a new style, known as "search engine optimization," that would make their articles stand out in search engine results. This is done by emphasizing certain phrases, called keywords. Web companies sometimes refer to this as "content creation" but, in essence, it is the same work freelance copywriters have been doing since the 1800s.
AS FEATURED ON:
AS FEATURED ON:






By: nyul

Freelance copywriters might telecommute using a laptop.

By: romantsubin

Freelance copywriters may work for print publications, such as magazines.

By: Pixsooz

Freelance copywriters are often able to focus on projects they enjoy.

By: AntonioDiaz

Freelancer copywriters must have the self-discipline to work from home.