A bedroom set is a set of matching furniture that goes into your bedroom. Having one can completely pull the design of your room together. It can turn your bedroom into a retreat and can be something that you own for quite a long time.
When it comes time to choose a bedroom set, it can take you awhile to pick the one that is right for you. You are going to wake up in the bedroom and fall asleep in it, so it is important that the set you choose is one that you love and that fits your personality. In order to begin to choose the best set, decide on the finish you want the furniture to have along with the style you want it to be.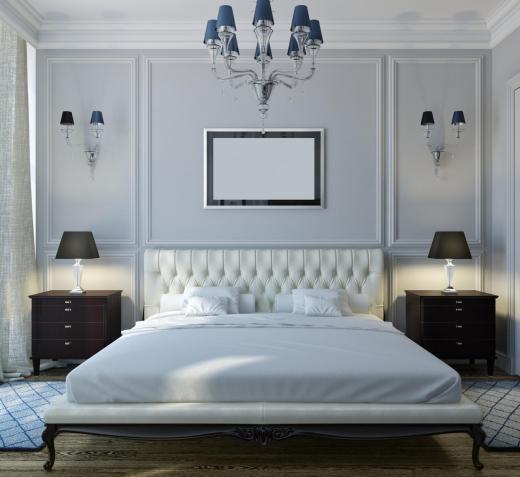 Unless you want to change everything in your room, the bedroom set should be complementary to the color of the walls and the carpet, along with the style of the décor. Your set is going to be the focal point of the room, so it is going to have a major effect on how the room looks and feels. If you plan on going to a store or showroom and asking for assistance in choosing the best set, you may want to take pictures of your room to show the color scheme and style currently in place.
A bedroom set can be very expensive. While it is possible to find one for hundreds of dollars, many sets can cost thousands. It is important to check the quality and durability of the furniture so you will not have to spend a lot of money only to replace it in the near future. If you are looking for an inexpensive bedroom set, you may want to check moving sales, as many people are eager to let go of furniture that they do not want to lug to their next home.
Space is a major factor when choosing your bedroom set. Before you buy the set, decide on how many pieces you will need and measure how much space you can afford the set to take up. Some sets only come with a bed and a nightstand while others can include five or more pieces. Compare the measurements of the set to the positions where they will be in your bedroom to ensure that the room will not get too cluttered. In addition, measure your doorway to make sure the furniture can actually fit through.
When choosing a bedroom set for a child, make sure that it is durable enough that it can last them for years without falling apart. If you feel that the kids may try to draw on the furniture or make a mess out of it, consider steering clear of light colored furniture such as white or natural wood. A darker wood would help make it easier to hide small blemishes.
When choosing your bedroom set, you should make sure that you absolutely have no doubts about it. It can be a lot of money spent, but it can be well worth it if you love that you open your eyes and see it every morning. The final look of your bedroom, thanks to your set, will help to pull the room together and give it the look and feel that you desire.
AS FEATURED ON:
AS FEATURED ON:






By: sowanna

The aesthetic appeal of simple bedroom accessories can be maximized if they are laid out in a symmetric pattern.

By: Iriana Shiyan

Children's bedrooms have furniture needs that are different from those of a bedroom designed for adults.