What Does a Travel Physical Therapist Assistant Do?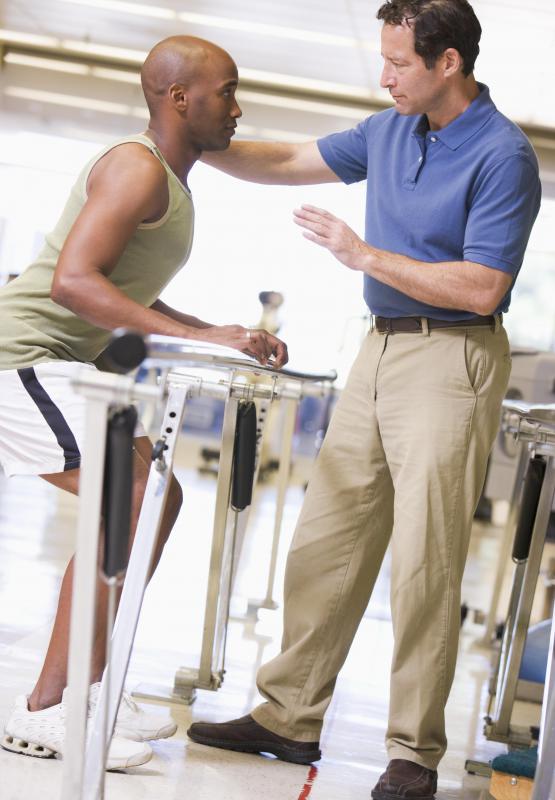 A travel physical therapist assistant is responsible for helping patients and full-fledged physical therapists on a temporary, usually contract basis. The assistant is usually placed on a team for a specific amount of time. Sometimes this time coordinates with a patient's projected recovery schedule but may also depend on clinic needs, or the primary therapist's own schedule. In most cases, the actual job duties of a travel physical therapist are the same as if the assistant was fixed in a permanent location. What makes the job unique is the traveling, generally transient nature of the provider.
Traveling physical therapists are generally short-term contract workers who agree to be placed by therapy agencies wherever there is greatest need. Therapists can often specify their general location, then the agency will match them with assignments in that area. When this sort of physical therapist is in need of an assistant, he or she is usually matched — often by the same agency — with a travel physical therapist assistant. This person will shadow the more senior therapist, learning his or her style and helping out as needed.
Patient care and basic rehabilitation work are some of the travel physical therapist assistant's primary tasks. He or she will usually work with patients to reinforce exercises taught during regular sessions. This often includes help using equipment and spotting during stretches. The assistant rarely ever comes up with exercise or therapy regimens independently, but is usually responsible for helping teach and execute them once they have been designed.
Assistants are often assigned to work based on the types of therapy with which they have experience. At the assistant level, though, a lot can be learned on the job, which makes specialization less crucial. In most cases, the assistant will be working with a single patient or group of patients, all of whom are usually under the same practitioner's care. There are instances where a travel physical therapist assistant may be placed in a clinic or group practice setting, as well, often in response to temporary gaps in the clinic's permanent employment roster.
A travel physical therapist assistant may also carry some paperwork responsibilities. He or she is often charged with recording and documenting patient progress, as well as with writing up prognosis reports and insurance billing packets. Most of the time, this work is performed in offices at the clinics with which patients are associated or else at home.
Travel therapy jobs are somewhat unique in that practitioners do not have a fixed home base. A travel physical therapist assistant usually signs on for but a single assignment at a time. The contracting agent will usually arrange housing and transportation during that period. Once the assistant's work is done, he or she is usually free to either apply for a new posting in another location, else move on to pursue new opportunities.
By: Monkey Business

A travel physical therapist assistant may help a physical therapist treat amateur athletes.