What Does a Media Sales Manager Do?
A media sales manager directs and manages the advertising sales efforts of a media outlet. He typically assumes responsibility for hiring, training, and coaching new sales team members as well as setting goals for his team. In some cases, the media sales manager may also directly service very important accounts and may partner with sales team members in attracting new business. In many cases, he may also be responsible for working to develop new sales promotions and opportunities. The media sales manager must usually have either an undergraduate or postgraduate degree along with several years of experience in the area of sales. He typically answers to the director or executive in charge of sales for the media organization.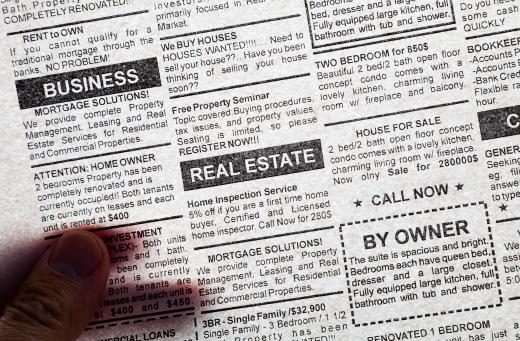 Various types of media, including print, broadcast, and online media, frequently sell advertising and promotional services to other businesses as well as individuals. It is the responsibility of a sales team to seek out potential advertisers and present various advertising opportunities to them. The sales team is typically led by a media sales manager, who has responsibility for ensuring that the team meets or exceeds the organization's sales goals. Advertising opportunities may include print advertising, classified advertising, as well as various online promotions. The sales team and its manager are typically responsible for pairing clients and potential clients with promotional opportunities that match their budget and that will help them reach their target audience.
It is typically the responsibility of the media sales manager to hire new sales team members. After a team member is hired, the manager assumes responsibility for his or her training. Typically, the new hire will work closely with the media sales manager, who will bring her along on sales calls or will pair her with a more senior sales representative so that she can observe good sales and customer service techniques. The sales manager will also closely observe the new hire during her first months on the job to determine whether she is a good fit with the company.
The media sales manager will also evaluate the performance of other sales team members. If the sales representatives are not meeting their sales goals, the manager may need to provide one-on-one counseling or assistance to the team members. At the same time, the sales manager may also need to investigate other possible reasons for failure to meet sales goals, including general market and economic trends as well as editorial directions that may cause a decrease in readership or viewership. In such cases, the media sales manager may need to work closely with his superior to either reestablish more realistic sales goals or to work with the editorial department to improve and adjust its offerings.


By: Image Source IS2

A media sales manager giving a presentation.

By: Feng Yu

Newspapers employ a sales manager to oversee all of its advertising opportunities, such as classified ads.

By: georgejmclittle

Various types of media, including online media, frequently sell advertising to other businesses and individuals.