What Does a Certified Medical Transcriptionist Do?
A certified medical transcriptionist converts recordings dictated by doctors and other medical professionals into written documents. He or she transcribes all types of records, reports, and correspondence for patient communication or insurance purposes. A transcriptionist might work for a private practice, inside a hospital or other organization, or as an independent contractor. Given his or her credentials, a certified medical transcriptionist is held to certain standards of accuracy, confidentiality, and professionalism. Excelling at one's duties as a transcriptionist can often lead to more advanced opportunities in the medical field.
Certified medical transcriptionists work in a number of locations, including their own homes, at a hospital or doctor's office, or for a medical transcription company. They might also work in labs or medical libraries. The types of documents they transcribe include patient records, administrative reports, and research findings, just to name a few. Some professionals focus solely on transcription, while others, including medical secretaries, might do it as one of several job responsibilities.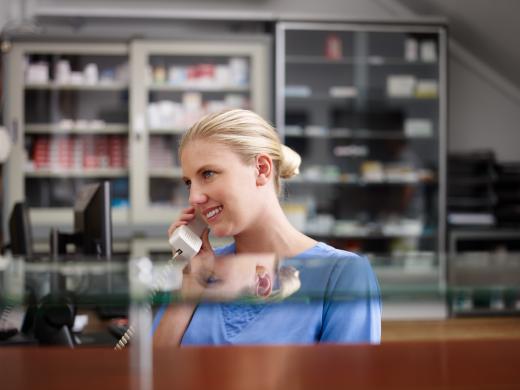 Given the importance of the material being transcribed, certified medical transcriptionists typically require superior editing abilities on top of their basic transcription skills. In addition to writing, they spend a significant amount of time on research and analysis in order to ensure the accuracy of their final products. They usually need technical expertise to operate medical transcription equipment, and the ability to transcribe efficiently and accurately. Some background knowledge of medical issues is usually expected, allowing them to grasp complicated terms and concepts.
A certified medical transcriptionist has a number of tools at his or her disposal. What was once a lengthy transcription process has become more streamlined with the constant evolution of technological aids. Voice recognition software and equipment, for example, can help a certified medical transcriptionist quickly convert dictated material into written records. Even without having advanced equipment, Internet access alone is often enough to facilitate the exchange of dictated material.
After working for two or more years in an acute care or mulch-specialty setting and obtaining certification, a certified medical transcriptionist might then choose a specific area of focus; some common examples include radiology and private practice. Usually, he or she must renew his or her certification after three years by fulfilling certain continuing education requirements. Many certified medical transcriptionists go on to supervise other employees or manage their own offices, leading to more advanced opportunities and higher salaries. A few of the related positions that can be obtained with additional training are instructors, coders, and medical records technicians.
AS FEATURED ON:
AS FEATURED ON:






By: diego cervo

A certified medical transcriptionist can work in a number of locations, including a hospital or doctor's office.

By: Monkey Business

A certified medical transcriptionist may be responsible for transcribing patient medical records, which contain confidential information.