What are the Pros and Cons of Using a Blank Needlepoint Canvas?
There are many pros and cons of using a blank needlepoint canvas. A blank canvas can give needlepoint stitchers much more flexibility in needlepoint design, but it will be necessary for them to either work from a charted design or paint one themselves. This can take some time but might produce better and easier-to-follow results than a canvas that has been printed by machine. Blank canvas might not be as readily available, but it can usually be purchased from specialty needlepoint suppliers.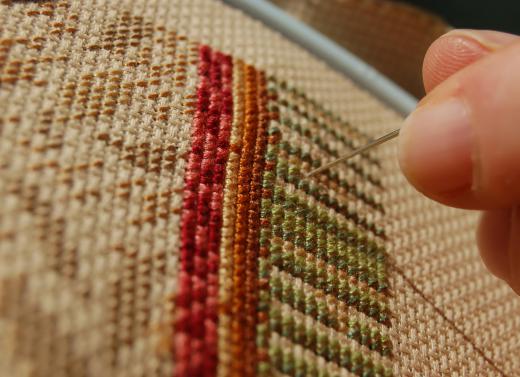 Mass-produced needlepoint kits often include a machine-stamped needlepoint canvas. Many needleworkers find these confusing to follow because of how they are painted, resulting in confusion over colors and exact positioning of stitches. Using a blank needlepoint canvas and painting the design can be a much more accurate route. The disadvantage is that it takes a steady hand and the correct materials to paint a design, and it can end up being more expensive and take more time.
Blank needlepoint canvas is preferred by many advanced needlepoint stitchers because it allows the freedom to create a more unique piece. It might not be appropriate for beginners or casual stitchers who do not have a good understanding of stitches, the types of canvas and how to follow a design. An alternative is a hand-painted needlepoint canvas, but it can be costly.
One less widely used method for applying designs to blank canvas is with the use of a printer. The design can be printed onto either standard printer paper or transfer paper. The design is then transferred to the canvas. This might be easier for beginners who want to try their own designs, but it can produce issues similar to those found when using a stamped canvas.
Blank needlepoint canvas can sometimes be difficult to obtain. Needlepoint is a relatively small niche hobby, and it might be difficult for the correct materials to be found in generic craft stores. Larger craft stores or specialist needlework stores often provide more selection and better quality supplies. They can often be the best place for needlepoint accessories to be found. In some cases, it may be easier for needlepoint supplies to be found online.
Using blank needlepoint canvas provides stitchers the flexibility of detailed, unique designs and the potential for a very rewarding finished product. This flexibility comes at the expense of a higher cost and potential difficulty in finding the right supplies. It might be necessary for stitchers to learn certain skills prior to creating their own designs on a blank canvas, but they are likely to improve their knowledge and skills in needlework.


By: alexsol

Blank needlepoint canvases allow the sewer to choose their own design.

By: Steven Latour

Blank needlepoint canvases are preferred by advanced needleworkers who no longer need guidance on where to place stitches.