How do I Choose the Best Needlepoint Design?
When choosing a needlepoint design, the most important things to consider are the purpose of the finished product, the skill level that will be required to complete the project, and how much time one can invest in completing the project. If the final project will be given as a gift, it is important to choose a needlepoint design that the recipient will enjoy. For example, a needlepoint design of a teapot or a quote a about tea would be perfect for someone who loves tea. If the needlepoint project is intended to fit in with a room that is nearly complete in its decoration, then consider choosing a needlepoint design that will incorporate colors that match the palette of the room.
It is very important to consider skill level when choosing a needlepoint design, especially for those who are novices. There are some designs that require a great deal of skill and are geared towards those who have mastered the craft of needlepoint. These sorts of designs may be very work intense and may require very small and complex stitches and patterns. Those who are just beginning to learn how to needlepoint may want to start out with a sampler or another similar needlepoint design that is quite simple.
Time commitment is also an important consideration, especially if the final product is intended as a gift for a certain event. A needlepoint design that covers a large needlepoint canvas may take dozens of hours of work. The same is true for designs that require very intricate thread work. Be sure to consider both the size of the canvas as a whole and the size of the stitches that will be used to cover it. Those who are advanced at the art of needlepoint may decide to sketch out their own needlepoint designs instead of using patterns that have been developed and distributed for sale in crafting stores.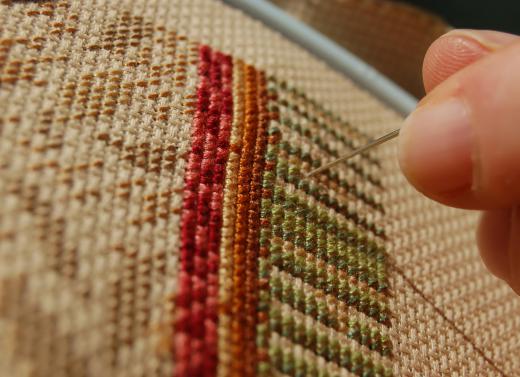 Some people prefer a needlepoint design that is part of a kit. This sort of kit includes the design, the canvas, and all of the thread that is necessary to complete the project. This sort of kit takes the guesswork out of assembling the materials necessary to complete a needlepoint design. These kits are sold at most crafting stores that carry needlepoint materials and are also sold online by web retailers that specialize in crafting projects and needlepoint projects.
AS FEATURED ON:
AS FEATURED ON:






By: alexsol

Some designs are intended for a higher skill level.

By: Steven Latour

Some needlepoint designs involve very intricate stitches on a very small scale.

By: Volker Gerstenberg

Some needlepoint designs are ideal for beginners, while others require advanced skills.