What are the Different Kinds of Needlepoint Supplies?
There are several different types of needlepoint supplies, including needles, threads, and embroidery canvases, as well as frames, hoops, and patterns. A needlepoint stitcher can be particular about the type of needlepoint supplies he or she prefers. Needlepoint supplies are widely available online and in craft and hobby stores.
Thread is arguably the most important of needlepoint supplies other than the needle itself. Common needlepoint threads include cotton, silk, and wool or blends like wool silk. Ribbon, raffia, and metallic braid or cord are also used in designs.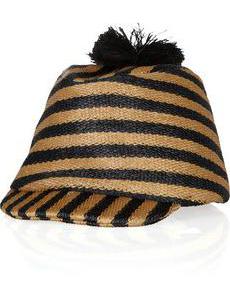 Needles come in a variety of sizes and are typically sold in packs. A pack will contain a series of different sized needles or several needles of the same size. Most high-quality needles are plated with platinum or titanium alloy. As the size number of a needle decreases, its length and thickness increase. Needlepoint needles tend to have longer eyes to accommodate threading multiple threads simultaneously.
A scroll frame is often used to secure a needlepoint canvas while the stitcher works it. The frame keeps the canvas taught. A finer canvas may be secured by a smaller embroidery hoop instead of a frame.
Needlepoint canvas is a stiff open weave type with varied thread counts that is often completely covered by a design. The canvas consists of holes for thread to pass through. Since needlepoint canvas is stiff, finished designs are often displayed as wall hangings or made into ornaments, pillows, and eyeglass cases or purses. Different types of needlepoint canvas include mono, plastic, and interlock.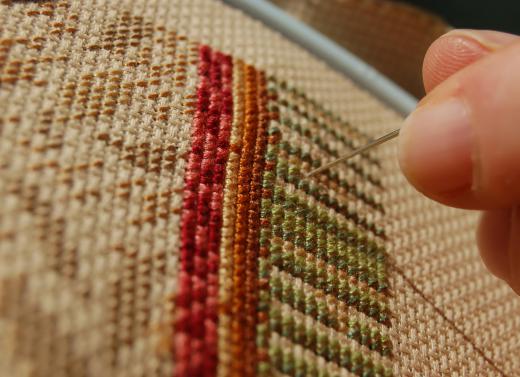 A needlepoint canvas size is indicated by its thread count per inch or mesh size. The most common mesh sizes are between 10 and 24 threads per inch, but the canvas can be as fine as five threads per inch. The thread count determines the amount of detail in a finished piece. A fine canvas will yield a greater degree of detail than a canvas with a larger thread count per inch.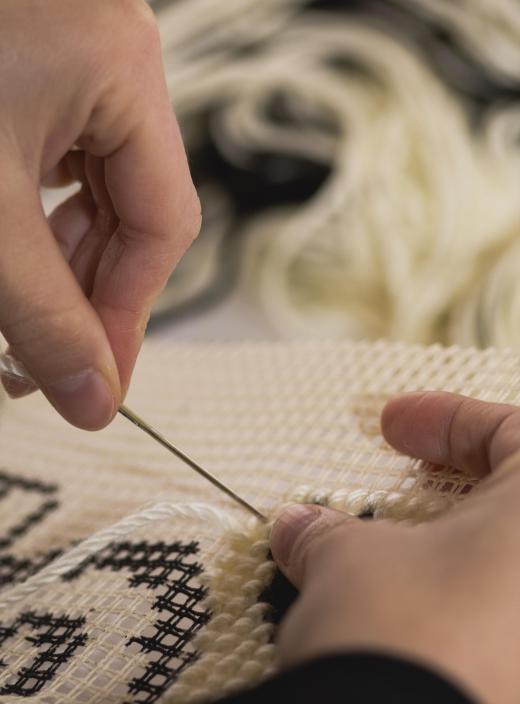 Patterns are another important type of needlepoint supply and are typically hand painted or printed on canvas. The designer can hand paint his or her design on a canvas or use a computer or the silk screening process to print the pattern. Printed canvases can be produced more quickly, but the designs are often less complex.
The stitcher can also purchase plain canvas and create his or her own unique design or consult a charted canvas design. Charted canvas designs are printed in needlepoint books or leaflets and sold in craft or hobby stores as well as bookstores. Design books usually include a series of patterns by a particular designer or focus on a theme like a holiday or life event.


By: phiseksit

Silk cocoons. Needlepoint floss can be made with silk fibers.

By: Wicker Paradise

Raffia may be used to make hats.

By: alexsol

Needles, thread, and canvas are essential in needlepointing.

By: Steven Latour

Threads of different colors and textures are necessary for complex needlepoint designs.

By: Volker Gerstenberg

Most needlepoint kits do not include the actual needles.

By: Claudia Paulussen

Wool is one kind of thread used by people in needlepoint designs.

By: Louella Folsom

Finer canvas may be secured by an embroidery hoop instead of a frame.