What are the Different Uses for Concrete Paving Blocks?
Concrete paving blocks are colorful and durable landscaping stones with many different uses. These blocks are often used around garden areas for footpaths, stepping stones, edging, walls, and water features. Concrete paving blocks also make a good driveway or sidewalk surface when installed in a sturdy gravel base. Borders, raised flowerbeds, pathways, perimeter edging, and decorative patios can all be created with concrete paving blocks. These pavers are good for constructing terraces, steps, and retaining walls as well.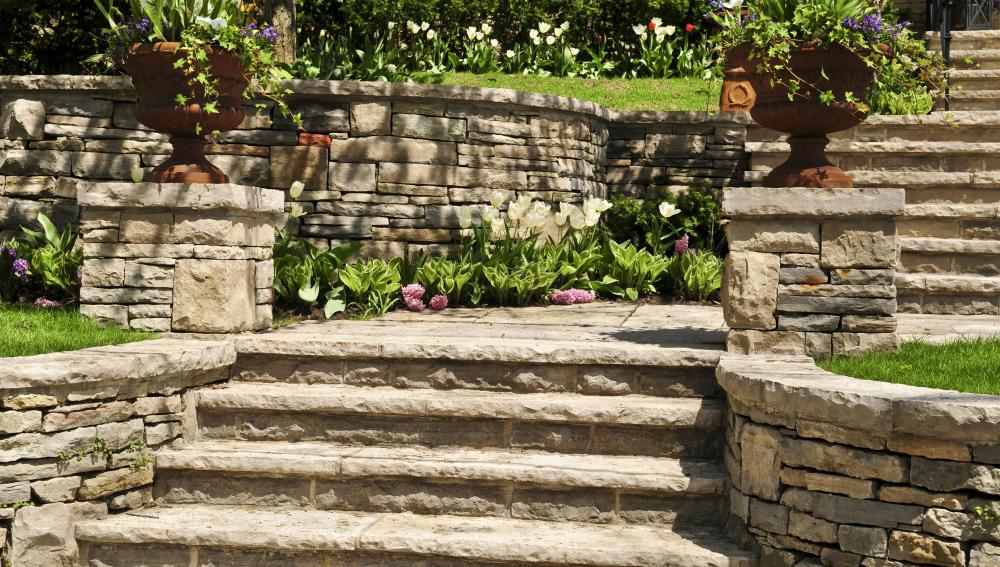 Garden areas offer a wide variety of uses for concrete paving blocks. These pavers can be laid side by side to form a smooth footpath through the garden or spaced apart for stepping stones. When these blocks are laid on their sides, they make a sturdy and attractive edging material around trees, shrubbery, and gardens. Small walls can also be constructed by laying these stones on top of each other with mortar applied between each course. Attractive waterfalls, fountains, and ponds may also be constructed with these pavers.
Concrete paving blocks are typically strong enough to support light vehicle traffic and are often utilized for driveway paving. This type of application works best when a compacted gravel base is installed first. Concrete pavers are available in several colors and finishes for creating attractive and unique driveway designs. These blocks may also be stained with a number of different colors. A sturdy and attractive sidewalk can also be built by installing concrete pavers over a gravel or sand base.
Attractive, colorful borders and edging can be created along asphalt driveways and sidewalks with these pavers. These stones may also be utilized to construct a small retaining wall for a raised flowerbed. Concrete pavers are also good for installing weed-control edging along a perimeter fence. A pathway to a pool, garden, or outbuilding can be created from concrete paving blocks laid on bare ground or a sand base. These stones also make a decorative patio surface and can be laid together with other types of paving to create a unique design.
Concrete paving blocks also work well on sloping and terraced landscapes. These stones can be laid in rows to reinforce terraces. Steps can also be constructed by stacking the pavers together on steep slopes. A small retaining wall constructed of concrete stones can be installed alongside the paver steps. Larger retaining walls are often built with interlocking concrete paving blocks designed specifically for this purpose.