What are the Different Types of Garden Retaining Walls?
Garden retaining walls can be made from a variety of materials, and the designs of the walls can vary from garden to garden to fit the builder's needs and desires. Some garden retaining walls are made for strength, while others are purely decorative; the best walls combine both strength and visual appeal. Wood, stone, concrete, and brick are the most common materials used for garden retaining walls. Each material comes with its own advantages and disadvantages, so a person considering building a wall should be sure to determine what his or her priorities are before purchasing materials.
Wood garden retaining walls can be made from pressure-treated wood, railroad ties, or cedar to create an attractive and simple retaining wall. While not the strongest material for a garden retaining wall, wood is one of the more attractive options and the easiest material to work with during construction. The shape of the wall can be somewhat limited by using wood, as curves are much more difficult to construct with wood than with other materials. For simple, inexpensive, and easy-to-build garden retaining walls, wood is a great choice. One should be sure to choose pressure-treated lumber or cedar, as these are both resistant to damage from moisture, mold, and bug infestations.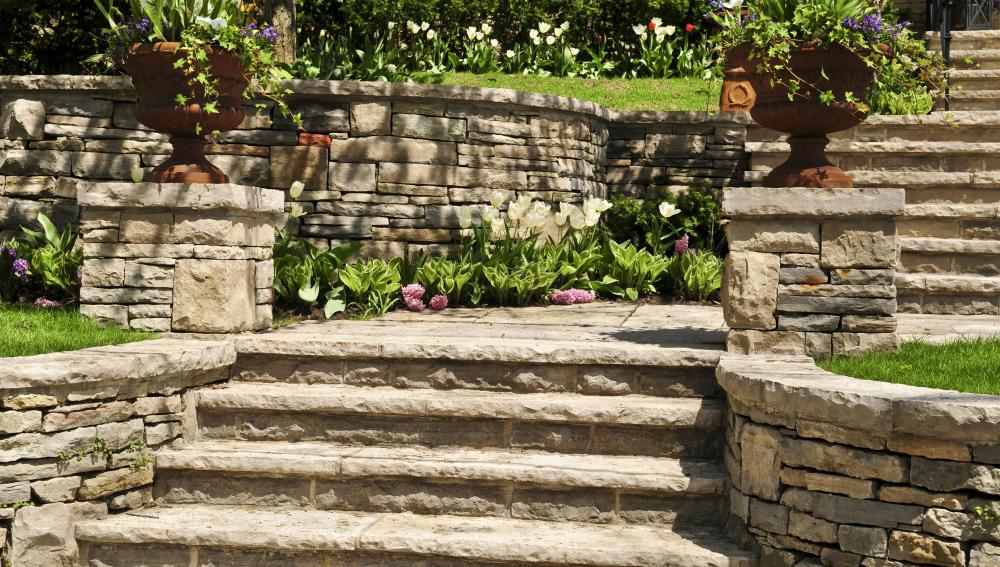 Stone garden retaining walls can be made from natural stone found in the garden or yard, or they can be made from prefabricated stones that are uniform in shape and size. Such stones are easier to work with than other materials and can be laid into a variety of shapes such as corners or curves. This is a very attractive choice for garden retaining walls, but the wall must be constructed carefully to avoid collapses and damage from water flow. Decorative stone retaining walls can be constructed easily, though they will not be the best option for structural support. They will be able to handle small to moderate loads.
Brick is one of the stronger and more attractive materials used for garden retaining walls, but it is also one of the most expensive and difficult to work with. Brick construction takes significant skill and experience, so if the builder has never worked with brick before, proper wall construction may be difficult or impossible. There is little room for error, too, and if drainage or support issues arise after the wall is built, repairs will be difficult.