What Are the Different Types of Trainee Administrator Jobs?
Different types of trainee administrator jobs typically vary by industry as well as the needs of individual employers. Individuals who are interested in learning the work of office or business administration may be able to receive on-the-job training through apprenticeships or internships in a variety of settings. Individual employers may also provide focused training programs for new employees. Specialized education and preparation may be necessary for some types of trainee administrator jobs, such as those in the healthcare industry.
All types of businesses, institutions, and organizations have need of administrators who can manage their day-to-day operations. These administrators typically should have strong organizational skills and must be able to multi-task, as they may be responsible for numerous job duties, including managing correspondence, communications with different departments, and third parties as well as maintaining databases, files, and other records. Some administrators are generalists who handle a wide range of office administration work, while others may be more specialized in their duties, focusing on areas such as facilities management, insurance billing, and managing contracts. Trainee administrator jobs may focus on training new hires in these specialized areas, particularly if a company has proprietary systems or its administrators are expected to handle particularly complex duties.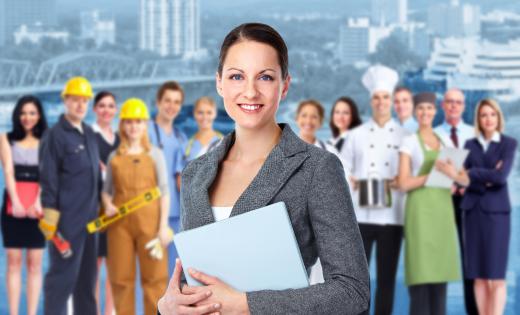 Universities and vocational schools may sponsor internship programs that can place students in trainee administrator jobs. Internship programs usually require employers to develop a work plan that meets certain educational objectives while also allowing the employer to benefit from the work performed by an intern. These trainee administrator jobs may be paid or unpaid and usually last several months, although they can also last for longer periods of time, depending on the policies of both school and employer. Internships can sometimes lead to offers of regular employment after the trainee has graduated from school or, in some cases, even before graduation if the intern shows exceptional qualities as a worker.
Another option for obtaining trainee administrator jobs is to pursue a formal apprenticeship. In an apprenticeship, a trainee administrator will typically take a job at relatively low wages for an employer in exchange for training and mentoring. The apprentice may also be enrolled in an educational program that provides formal training in various aspects of administration. The apprentice may work for his or her employer during the day and take these courses online or in the evenings. Apprenticeship programs may be more structured than internships and may be administered entirely or in part by government agencies.
AS FEATURED ON:
AS FEATURED ON:






By: Kurhan

Universities and vocational schools may sponsor internship programs that can place students in trainee administrator jobs.