What are the Different Types of Stone Paving Slabs?
There are several different types of stone paving slabs that may be used to form an attractive walkway, patio, or driveway surface. Each type of stone paving slab has its own unique appearance because it is quarried from naturally formed material. Stone slabs are generally more durable than man-made materials and some varieties can be quite costly. The most common types of stone paving slabs are made of travertine, slate, and granite. Paving slabs are also available in limestone, sandstone, and bluestone.
Travertine is a type of marble that is known for its ability to remain cool in the hot sun. These stone paving slabs are frequently used as swimming pool surrounds and have a naturally slip-resistant surface when wet. Travertine slabs are very durable and can be installed in a sand or mortar base. This material is available in colors such as blue-gray, ivory, brown, red, and green. Travertine paving is a fade-resistant material and can be purchased in rectangular, square, or irregular-shaped pieces.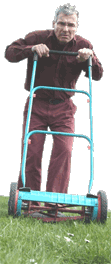 Slate is a common material used for making stone paving slabs and typically provides a very durable outdoor surface. These slabs are often utilized for paving around pools, fountains, and other water features because of their non-slip properties. Slate slabs can be placed in a bed of sand for patios and walkways or installed with mortar for driveway applications. Common colors of slate pavement include green, gray, black, blue, and red. Darker shades of slate require regular use of a glossy sealer to prevent fading.
Granite slabs are one of the most durable paving materials and can be polished to a brilliant finish. This material makes a sturdy driving surface and can usually withstand the harshest environments. These natural stone paving slabs are available in colors such as yellow, rose, gray, white, and black. The more colorful shades of granite are typically the most expensive. Granite paving slabs may be laid on sand, mortar, or bare soil.
Limestone slabs are quite heavy and one of the most expensive types of paving material. This stone variant is very durable and can usually be custom ordered in any size. Limestone colors range from shades of gray and blue to tan and black. These slabs typically perform well when installed in a sand base. Limestone paving slabs are easily stained, and a sealant must be applied to protect the finish.
Sandstone is another popular choice for paving slabs and typically produces a smooth, uniform surface when installed. These stone paving slabs are easy to cut and a good choice for odd-shaped designs. This material can be purchased in a naturally cut state or flame treated to create a pebbled surface. Sandstone colors include red, tan, green, yellow, and blue. A popular blue-gray variety is commonly referred to as bluestone.
AS FEATURED ON:
AS FEATURED ON:






Man mowing the grass