What are the Different Types of Risk Management Training?
Risk managers have opportunities for careers in the world's major corporations, governments and nonprofit institutions. It is a critical financial task at large organizations to identify risks and address risk in order to achieve strategic goals and avoid disastrous business accidents, property damage and other perils. To grow in the profession and maximize opportunities, risk managers can participate in risk management training, including online training, on-the-job experience, classroom work and industry meetings.
One of the ways for risk managers to attain risk management training in the middle of their professional careers is to work toward risk management certification. In some cases, a risk manager's employer can pay for the risk manager to earn certifications from the various accredited professional organizations that provide them. These programs are often offered in classroom settings and can require time off from work and travel.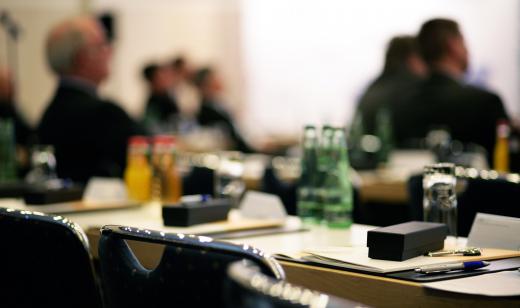 If a risk manager is unable to travel or miss work, risk management training programs are often offered online as well. With these online training programs, typically a risk manager can choose the pace and the timing of his or her education. He or she can expect to be required to pass an exam upon the completion of the risk management training program as they would in a classroom course.
As with other professions, risk management is also something that can be learned at the college level. Various colleges and universities offer risk management training programs and undergraduate and advanced degree programs. Risk management courses can be taken as a concentration in another undergraduate major or as a risk management degree. Advanced university work can be done toward an M.B.A. with an insurance or risk management focus or toward a degree in such topics as actuarial sciences.
A professional risk manager can also acquire risk management training by attending industry conferences and seminars. Risk management organizations exist to represent risk managers in given countries and regions, and there are organizations for risk managers who work in specific industries, such as hospitality, financial services and health care. Whatever the organization, they generally have regular meetings that feature educational roundtables and keynote speeches. These events also provide opportunities for risk managers to talk with their peers and discuss best practices to identify risks and assess risk.
Another way for a financial professional to gain risk management training is through his or her colleagues. Finding a mentor through a current or former employer or through professional organizations can have tremendous educational value. A mentors can also guide a younger risk manager along his or her career path toward greater success, increasing responsibility and job satisfaction.
AS FEATURED ON:
AS FEATURED ON:






By: Peter Atkins

Industry seminars and conferences offer risk management training.

By: ftfoxfoto

As risk management professionals often build careers in specific industries, such as transportation, they learn many facets of the profession after they have been employed by specific companies.