What Are the Different Types of Promotional Modeling Jobs?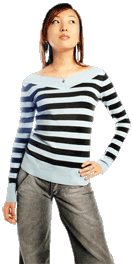 The common feature of all promotional modeling jobs, as opposed to other kinds of modeling such as print or runway, is that the model interacts with potential clients. As with all kinds of modeling, promotional modeling is aimed at attracting clients' interest through the physical appearance of the model. Promotional modeling jobs are unique in that they also require that the model be personable as well as knowledgeable about the product or service being offered. Types of promotional modeling jobs include trade show and convention modeling as well as spokesmodeling and working as a brand ambassador.
In the contexts of trade shows, conventions, and similar special events, promotional modeling jobs usually involve distributing fliers or free samples and answering questions about a product or service. As the main representative for a company at such events, models are usually expected to take initiative by engaging people in conversations. Even when the model is not required to hand out anything, they are typically supposed to be able to draw people to their promotional areas and provide explanations.
Promotional modeling jobs can also take place in retail stores. This specific kind of promotional modeling is also known as retail modeling. The model is normally in charge of a booth or stand from which he or she gives out samples of a product, or demonstrates its use. Models often encourage the immediate purchase of the product by offering special promotional pricing in addition to the samples. Retail models may work in venues ranging from small corner stores to large showrooms.
While other types of promotional modeling jobs are frequently one-time gigs, the term spokesmodel can imply a greater time commitment to a particular company. A spokesmodel might also participate in special events and retail modeling, but he or she normally has a deeper knowledge of the company's goods and objectives. A spokesmodel might even become a more permanent "face" of a company once customers develop a strong enough association between his or her looks and the company's brands — the Marlboro Man is one famous example.
Brand ambassadors are also types of spokesmodels, and they are sometimes in charge of managing a team of other models. They are commonly employed for work in social contexts, such as at night clubs, bars, or large promotional parties. They promote the brand through socializing. Brand ambassadors can now also be found operating online through social networking sites.
Woman with hand on her hip