What Are the Different Types of Medical Imaging Degrees?
There are medical imaging degrees available in radiologic technology, diagnostic medical sonography, and nuclear medicine technology. Most of the positions in this field require an associate's degree, but some may require a bachelor's degree. Most states and regions will likely require some type of certification in order to practice in the field of medical imaging. The likelihood of being on one's feet for long periods of time makes physical stamina an important qualification for this type of work.
Those with medical imaging degrees in radiologic technology are sometimes referred to as x-ray technicians or radiographers. They specialize in work involving x-ray technology and magnetic resonance imaging (MRI) equipment. One of the most important requirements for this position is to be able to prepare patients and to placing emotionally fragile people at ease. Those who have earned a degree in radiologic technology must also pass an exam and acquire certification from local state or regional government authorities. Certification in the U.S. is overseen by the American Registry of Radiologic Technologists (ARRT), either directly or through local state agencies.
Diagnostic medical sonography is another type of medical imaging degree. Sonographers work with various types of scanning and image technology to photograph, film, or directly observe areas inside the body of a patient. Those who have earned these types of medical imaging degrees may also be referred to as ultrasound technicians. Some people in this field specialize in a single type of imaging technology, while others may develop skills in various other medical imaging technologies. No specific licensing authority oversees this area of medical imaging, however, some employers may require sonographers to take an exam and register with the Association of Registered Diagnostic Medical Sonographers (ARDMS).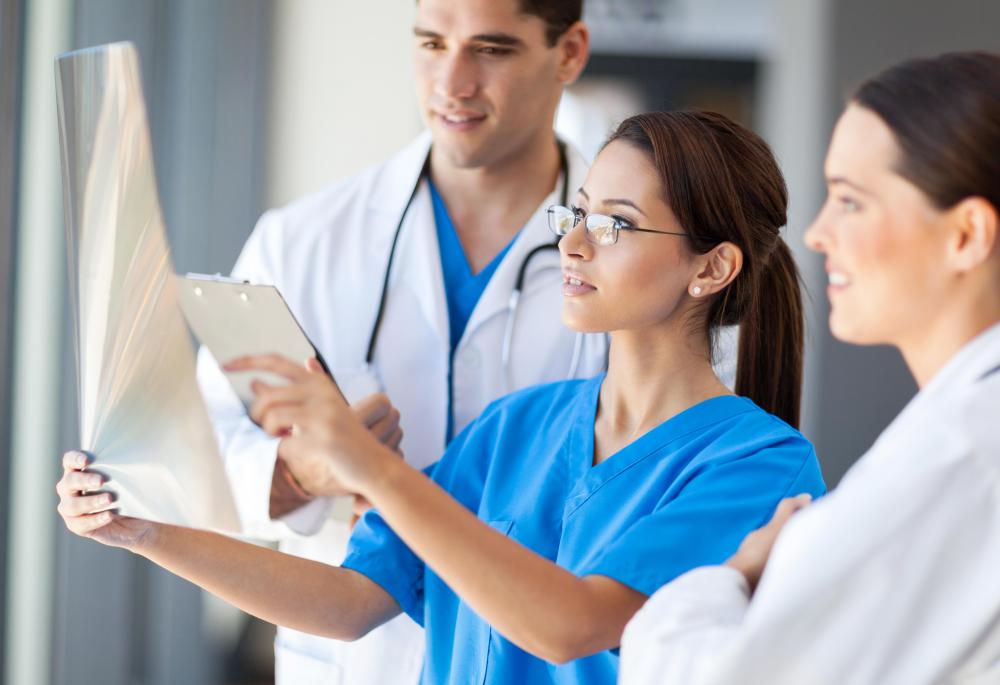 Unlike those with other medical imaging degrees, nuclear medicine technicians work with medical imaging technologies that involve making an assessment of how tissues or organs react when exposed to radioactive particles. After these radioactive particles are introduced into a patient's body, nuclear medicine technicians, or nuclear medicine technologists, scan the affected areas and produce an image. There is currently no licensing authority for nuclear medicine technicians but completion of certification by passing an exam is required by both the American Registry of Radiologic Technologists (ARRT) or the Nuclear Medicine Technology Certification Board (NMTCB).
Medical imaging specialists inspect X-rays.

An MRI machine, which is used for medical imaging.

Endoscopy is a branch of medical imaging.

Medical imaging specialists work closely with doctors and other medical professionals.

Medical imaging degrees are available in diagnostic medical sonography, nuclear medicine technology, and radiologic technology.