What are the Different Types of Exfoliating Sugar Scrub?
Exfoliating sugar scrub can be scooped out of a jar, or used as a body scrub bar. With either type, there are many fragrance, herbal, and floral options to choose from. Also known as skin polish, body scrub is meant to literally scrub away impurities and give softer skin.
There are certain areas of the body that, depending on the season and skin type, might require extra exfoliation. Some people like to use exfoliating sugar scrub on their knees and elbows. The scrub can be used in place of shaving lotion as well. If necessary, the sugar scrub can be used on a daily basis.
Sugar is able to be used as a moisturizer because it contains humectants. Humectants are molecules that are able to absorb moisture from the air. This molecular composition allows sugar to moisturize the skin while not clogging pores at the same time.
When it comes to selecting a fragrance for an exfoliating sugar scrub, there are an unlimited amount of options to choose from. Fragrances such as lemon, orange, tangerine, or lime are available. Although some fragrances might smell good enough to actually sample, exfoliating body scrubs should never be ingested, as they usually contain additional inedible oils and preservatives.
Flowers or herbs often are added to exfoliating sugar scrub to enhance its overall aesthetic properties. Yarrow, for example is a Chinese herb that helps to soothe muscles. Those who wish to alleviate stress might choose lavender flowers.
Although exfoliating sugar scrub can be purchased at spas or beauty supply stores, a type that can be scooped also can be made. All one needs is granulated white, brown, or cane sugar, and moisturizing oil. Fragrance oil, herbs, or flowers are optional. If one does choose to add them, the amount is based on preference, but the smell typically should not be overpowering.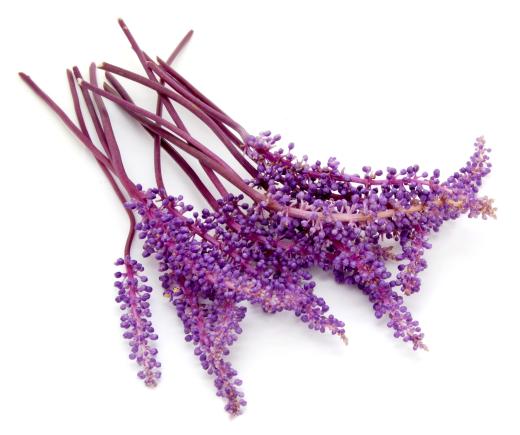 Place the sugar in a small bowl and add the moisturizing oil gradually until the sugar becomes similar to the consistency of slush. Ideas for moisturizing oil include apricot kernel oil, jojoba oil, or safflower oil. Mineral oil usually should not be chosen since it has a tendency to clog pores.
The completed exfoliating sugar scrub then should be placed into a plastic or glass container that can be sealed securely. Regardless of whether the scrub is purchased or homemade, the moisturizing oil sometimes can separate itself from the sugar in between uses. As a result, it usually is important to stir the scrub right before it is used.
AS FEATURED ON:
AS FEATURED ON:






By: Jiri Hera

An exfoliating sugar scrub.

By: Tamara Kulikova

Oil from the safflower plant, which contains vitamin E, makes a good base for an exfoliating sugar scrub.

By: Kimberly Reinick

Lavender is a common additive to sugar scrubs.

By: hanabiyori

Tangerines can give an exfoliating scrub a pleasant scent.

By: kubais

There are many scrubs available for specific skin types.

By: bit24

Sugar, when mixed with coconut oil, is a simple and inexpensive exfoliating skin scrub.