What Are the Different Types of Army Career Opportunities?
In most national military organizations, there are dozens of army career opportunities in a wide variety of fields. Depending on educational background and training, possible jobs can run the gamut from medical professionals to tank drivers. Some of the potential army career opportunities include serving as a combat soldier or specialist, working in recruitment and administration, becoming an army doctor, and training as a construction or engineering professional. The army jobs available to an individual may depend on his or her level of experience, civilian work history, and vocational training while enlisted.
A combat solider, specialist, or officer primarily works as an active participant in national defense or peacekeeping missions. Soldiers in this field are often certified to use many different types of weapons, as well as be able to operate land and amphibious transport and battle vehicles. Advancement through the various levels of rank may come through performance in training or in the field, at the recommendation of superiors, or by considering the length of time served.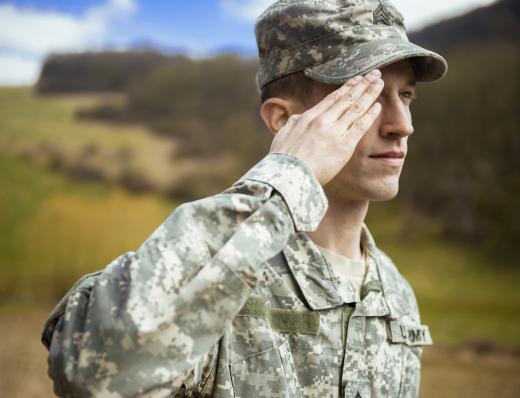 Administrative army career opportunities are great for those who wish to help with the day-to-day running of a national military. Some administrative personnel choose to become recruitment officers, in order to help educated potential soldiers and their families about military life. Those with a background in records keeping or office work can often find excellent jobs in this career area, providing an important service by making sure that paperwork and administrative affairs are properly managed.
Civilian medical or healthcare professionals, such as doctors or psychologists, can take advantage of army career opportunities that allow them to enter the military as an officer. This opportunity allows them to earn greater pay and enjoy more responsibility in recognition of their significant training. Enlisted soldiers or officer candidates without a medical background can also take training courses that will prepare them for a medical career within the army, including as physician assistants or laboratory technicians.
Armies frequently need to build, repair, or engineer a variety of structures and equipment. There are many army jobs available in construction, maintenance, and engineering, depending on existing skills or vocational training. Soldiers with an engineering background may be able to specialize in geological survey, space operations, and design and construction of structures in the field. Construction career opportunities may include electrician positions and even plumbing jobs. Maintenance technicians can specialize in tank or vehicle repair, building maintenance, or aircraft mechanics.
The types of army career opportunities available may sometimes be based on whether a candidate is an enlisted soldier or an officer. Enlisted soldiers need to pass fitness requirements and tests in order to join the army, and tend to start at lower pay. Officers go through training at a military academy, officer training school, or program such as reserve officer training corps (ROTC), and are usually required to have a college degree.
AS FEATURED ON:
AS FEATURED ON:






By: daughter

There are dozens of army career opportunies in a variety of fields, including serving as a combat soldier.

By: Steve Cukrov

Army career opportunities may include work as an army doctor.

By: Monkey Business

Military psychologists help patients through a variety of emotional situations unique to those serving in the armed forces.