What Are the Best Tips for Making DIY Wedding Stationery?
A wedding, although a very important day for the couple, has become a significantly expensive event. Do-yourself-weddings have become increasingly popular as brides and grooms try to find ways of stretching their budgets. Couples also increasingly want to add their own personal touches to their weddings. One way in which many couples achieve this is DIY wedding stationery. Tips for creating your own wedding stationery include quality, style, and practicality.
First, plan which items of stationery you want to make yourself. Decide whether you want to create just your wedding invitations or if you also want to make your own save-the-date cards, announcements, and thank-you cards. There is a huge market for DIY wedding stationery, so think of a general outline of what you want and how much you are willing to spend.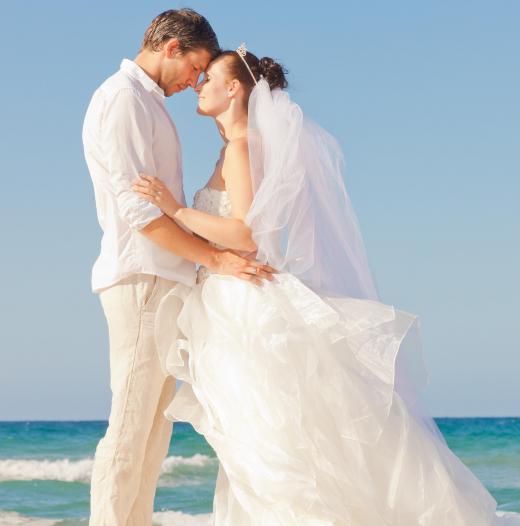 Even though you are opting for DIY wedding stationery, you still need to buy quality supplies. You will still save a significant amount of money, and you will be able to produce stationery that you can feel proud of and that will make a good keepsake for your album. Shop around at different stores and websites, and before you buy, ask for a selection of samples that are within your price range. Being able to see and feel the quality of your supplies gives you a better idea of what is available. Buy the best you can afford.
If you are going to the trouble of DIY wedding stationery, make sure that it reflects your personal style or things that are meaningful to you as a couple. Look around at different ideas and see what inspires you. Your invitations, for example, do not have to be made of paper. Some couples opt for different media, such as CD ROMs, instead. Puzzles, miniature books, and even message-in-a-bottle stationery ideas have all been successfully used.
There are also a number of practical tips you should keep in mind with DIY wedding stationery. Give yourself lots of time both to get your supplies and to make your invitations. Do them as soon as you can just in case something goes wrong or you don't like the result. Put together an example of a finished product. This will make it easier for you to judge if there is anything wrong with it.
Have another person proofread your stationery for you — it can be difficult to see your own mistakes. For stationery that you will be sending out, choose the envelope first to make sure that your invites or other announcements fit into it. Mail one to yourself both to make sure that the postage is affordable and that the stationery travels well and does not fall apart. Do not make your own envelopes because, not only is it very tedious and time-consuming, but it is difficult to do properly. After putting in all that work, you want guests to both get their invitations and admire your handiwork.
AS FEATURED ON:
AS FEATURED ON:






By: detailblick

A couple getting married.