What Are the Best Tips for Buying Vintage Clothing Online?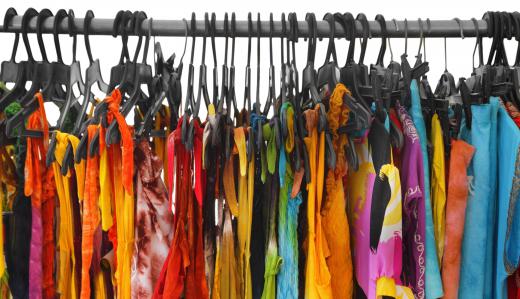 People who enjoy shopping for vintage clothing should follow a few simple online shopping tips. When looking for vintage clothing online, it is important to purchase from a reputable seller who has a reasonable return policy. It is helpful if there are photographs of the garment from many angles so a shopper can see if there are any flaws. Sizing vintage clothing can be difficult to do, so it might be smart to buy clothing that is a little bit bigger, as it can be altered later if needed.
Before buying any vintage clothing online, it can be important to research the seller. Shoppers should try to find out how long a company has been in business and where it is physically located. If the website gives a telephone number for customer service, calling this number and talking with a sales associate could be a good idea. In order to find out if the store offers legitimate vintage clothing, a person should find out where the shop gets its stock. People may also want to ask about the return policy in the event the vintage clothes do not match the description given on the Internet.
The inventory in a vintage clothing store is constantly changing, so people who are looking for a specific item may need to be very diligent. This could involve visiting a number of websites in order to find the right garment. Sometimes the item may not be found, in which case a substitution may need to be made. This means it is important for a shopper to be flexible as well.
When buying vintage clothing online, it is important to look at several photographs of the item. It is helpful if these photographs are taken from different angles so a shopper can see the entire garment. While looking at the pictures, it is a good idea to enlarge them in order to see more detail and recognize if the garment has any flaws.
Shopping for vintage clothing can often be difficult because sizing patterns have changed over the years. This means shoppers may not be able to buy vintage clothes that are their normal size and have them fit properly. When buying vintage clothing online, it can be a good idea to buy clothing that is one or two sizes bigger and plan to have the garment tailored if it is too big.
People who are not sure if they would like wearing vintage clothing may want to start with accessories. Vintage fashion accessories can be easier to match with modern clothing, so people who wear them can still feel stylish. Accessories are normally less expensive and need fewer repairs than other types of vintage clothing do.


By: adisa

It's a good idea to understand an online store's return policy in case the clothes don't fit.

By: PhotoSG

Vintage or used clothing is an example of environmentally friendly fashion.

By: Aramanda

It's important to buy clothing from established retailers.