What Are the Best Tips for Vintage Clothes Shopping?
Vintage clothes shopping can be a great way to discover unique and classic pieces with an interesting and flattering look. Fortunately or unfortunately, it can be a lot more challenging than simply shopping for new, modern clothing, and will require a bit of effort to find great pieces. Going prepared for vintage clothes shopping, and knowing what to look for, will help to ensure that money is well spent. The most important thing is to inspect each piece thoroughly, far more so than anyone ever would when buying a new piece of clothing. Also important is to go prepared with cash, and to wear tight-fitting layers to try clothes on in case a dressing room is not available.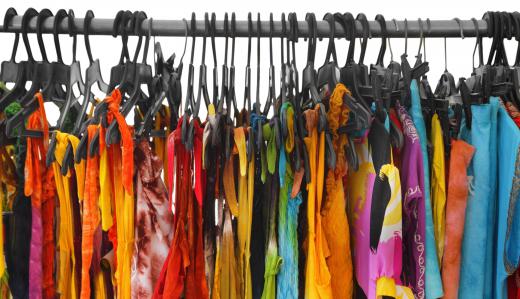 By far the most important tip when going vintage clothes shopping is to inspect each piece before purchase. Check to be sure buttons, snaps, or hooks are fastened securely, and that zippers work. Examine the piece of clothing from every different angle, even turning it inside out to look for rips or signs of wear. When shopping for shoes, wiggle the heel to make sure they are not loose. If the clothing has noticeable stains or an unpleasant smell, keep in mind that, depending on the material, it may need to be dry-cleaned, which can get pretty pricey.
If the clothes still look all right after these inspections, the next step in vintage clothes shopping is to try them on. Many small boutiques only have one small dressing rooms, and flea markets or estate sales might not have them at all, so wearing a tank top and leggings can make it easier to simply try items on right there without needing to undress. Do not go by size tags on vintage clothes; they are much different than modern sizes. If it is impossible to try clothes on, bringing a measuring tape to check measurements is another option. If clothes are slightly too big, keep in mind it is always possible to get them tailored.
When vintage clothes shopping, it is also important to go ready with cash, since many places do not accept credit cards. In certain locations it is acceptable to bargain, such as flea markets or yard sales, to try to get a lower price. It may take a long day of digging through racks and racks of clothing to find the best vintage deals, but it is worth it to many people to find a unique piece of clothing!


By: Schlierner

Size measurements change over the years, so it's often best for shoppers to take a tape measure with them when shopping for vintage clothes.

By: adisa

Vintage clothing can be found in boutiques and thrift shops.

By: Eky Chan

Seams look undamaged in quality vintage products.