What are the Best Tips for a DIY Water Feature?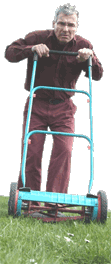 A DIY water feature can be a beautiful addition to your yard or garden, creating a peaceful and relaxing setting. Water features can also be used in commercial environments to not only add beauty to the landscape but to also add value to the property. If you have not had much experience with undertaking such a DIY project, you may want to start with something small and simple. As with all home improvement projects, it is good to know your limitations.
Before actually breaking ground for a DIY water feature, it is a good idea to sketch what you have in mind. You probably won't draw it perfectly to scale, but close size guidelines should be included. There are many sources of inspiration, which may also assist you in creating a helpful diagram.
Next, choose the location for your DIY water feature. While a little bit of slant or incline should not be a problem, you will want the space you intend to use to be reasonably level. The next step is to mark out the perimeter of the feature to make sure it will fit and look nice where you want it. This can be done in a non-permanent way by simply making a line with your garden hose or with a length of rope in the shape you have sketched for your DIY water feature.
If you are using a pre-made piece such as a plastic liner, you can lay it down, adding a few items around it to get the general feel for size and appearance. Step back and take a look to make sure it flows with the rest of the landscape. Measure carefully, and make sure it is centered properly or otherwise placed appropriately before taking any action.
The most important tip when creating a DIY water feature is to call any utility companies before you dig up your very first shovelful of soil. Hitting a utility line is the last thing you want to do. In the US you can dial 811; other locations may also offer a "one call" center for assistance. There is a state-by-state list available at the 811 website for more information.
Laws vary, so be sure to find the information you need ahead of time, well before you begin work on your DIY water feature. Whether contacting one source such as 811, or making contact with various utility companies, it is important to call in advance. In some areas, you will need to call from 24 to 72 hours prior to digging. These hours must fall within standard business days, and in most areas will not include weekends or legal holidays. The utility companies will then mark your property, using specific colors to indicate each particular utility line.


Man mowing the grass