What are the Benefits of a Workout Partner?
Having a workout partner can result in numerous benefits. While motivation is often the main benefit of having a person to exercise with, especially for someone who tends to procrastinate, there can be many other great rewards. These other benefits may include support, sociability and safety.
Whether it's walking around the neighborhood after the evening meal or cycling for the better part of a weekend, working out regularly with an exercise buddy can make the activity feel supportive. Each workout partner can encourage the other and praise his or her fitness efforts. Sharing a workout routine requires a commitment so the other person isn't let down by a cancellation. The ongoing support of a workout buddy relationship can help people take and give compliments as well as learn to be considerate of the needs of others.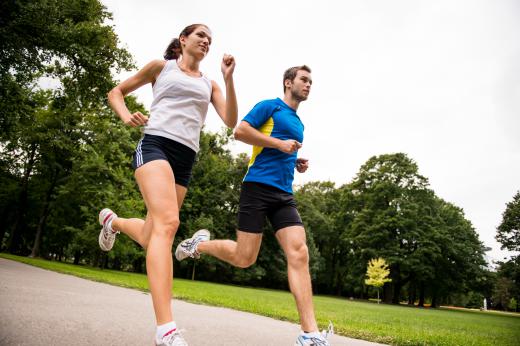 Sociability is a major benefit of having an exercise partner for many people. Some people may work at a job with limited social interaction as well as have a limited amount of time to exercise. By exercising with a workout partner, the two needs can be met at the same time. People with similar activity preferences as well as time schedules can make ideal exercise partners. For example, two stay-at-home mothers with small children may decide to walk together around their neighborhood several afternoons a week while pushing their kids in strollers.
Members of a gym may choose the same days and times to work out so the chance they'll actually go to the facility is increased. Having a gym partner can serve as a good motivator to make use of one's membership. A more experienced gym workout partner may make a newer exerciser feel more comfortable about using unfamiliar weight machines. The skill levels of both partners should be fairly even though, or the more experienced person may not feel benefited by the workout partnership.
Having a running buddy can be very beneficial in terms of safety. While it should be made clear that running outdoors with another person doesn't mean that an attack by a stranger or being hit by a car can't happen, it does mean an extra set of eyes and ears. A running workout partner relationship should mean that both parties are as aware as possible about protecting their own and the other person's safety. Running on a well-populated jogging track during daylight with a partner is generally safer than working out alone outdoors in a secluded or dark environment.
AS FEATURED ON:
AS FEATURED ON:






By: Martinan

Running with a partner is safer than running alone.

By: william87

If none of your close friends enjoy working out, try taking a class at your local gym, and you are likely to find a workout partner there.

By: imtmphoto

People often workout at the gym with a partner to keep themselves motivated.