What Are Primary Care Consultants?
Primary care consultants are groups of medical practitioners that provide initial treatment and health care. Several licensed physicians that practice general or internal medicine often form a single company to share costs. Most forms of primary care involve the preliminary diagnoses of diseases, conditions and injuries. Primary care physicians usually accept insurance payments from carriers that are a part of a preferred provider or health maintenance organization (HMO) network.
In countries with economic systems that support private health care, physicians can choose to go into business with several other primary care consultants instead of operating as a sole practitioner. While some patients may remain loyal to a particular doctor, others might switch to other primary care providers in the same practice, given certain circumstances. Some of those circumstances include dissatisfaction with treatments, physician retirement and temporary absence. The office staff of primary care organizations will usually direct patients to other doctors who have agreed to take on patient overflow.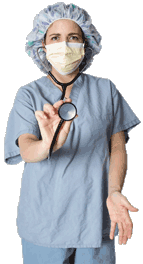 Unlike specialists, primary care consultants treat patients for a wide variety of conditions, symptoms and injuries. They are mainly focused on preventing diseases and monitoring a patient's overall health. As general medicine practitioners, primary care physicians will usually perform annual physicals, treat minor to moderate injuries, and test for the development of diseases such as cervical cancer. Insurance carriers that require patients to select a primary care physician (PCP) will usually not pay for specialist services unless a referral is obtained.
The majority of individuals first seek treatment and advice from primary care consultants. Unless there is an illness or injury that the patient feels is an emergency, he will typically schedule an appointment to see his main doctor. Some of the care may be routine, such as immunizations and age-related diagnostic tests. Other types of treatment may be for concerns related to skin disorders, screenings to prevent terminal diseases, and troublesome symptoms such as chest pains and low energy.
Under the primary health care model, insurance carriers give reimbursement and subsidies to primary care consultants within an established network. The patient may be responsible for a co-pay or annual deductible before the insurance carrier will cover the costs of medical treatments. Physicians that are in a preferred provider (PPO) or HMO network typically discount the costs of some or all of their services. In some cases, patients are not restricted from seeking treatment from primary care physicians who are not within the carrier's network if they are willing to pay the non-discounted rate.
AS FEATURED ON:
AS FEATURED ON:






Doctor