What are Individual False Eyelashes?
Individual false eyelashes are similar to full sets of false eyelashes aside from the fact that they do not come attached to a strip that is meant to be glued in its entirety above the eyelash line. The individual lashes come separated from each other so that a person can place as many or as few lashes as she wants on her lash line. This might make creating either dramatic or toned down looks easier than if someone used a full set of false lashes, which gives a person no other option except to attach all the lashes at once above the eyelashes.
The process of applying individual false eyelashes may be a bit trickier for people who are not used to using them. Applying these lashes also tends to take longer than applying a regular set of false eyelashes because each lash must be placed individually above the eyelashes. It might also be difficult for a person to grab hold of each lash, which is why many beauty experts recommend using tweezers to pick up and apply them. Glue is also typically used to apply individual false eyelashes, which may or may not come with the lashes depending on the brand.
To properly apply individual false eyelashes, the first thing a person may need to do is make sure her eyes and lashes are completely clean and free of any makeup residue. Then she should squirt some eyelash glue or other adhesive onto a small piece of paper or aluminum foil. Each individual lash should be carefully picked up with a pair of tweezers, and the end of each lash should be dipped into the eyelash glue. Once the glue is on the lash, it can be placed in the desired spot just above the natural eyelash line. This process should be repeated until a person has achieved her desired look with the individual false eyelashes.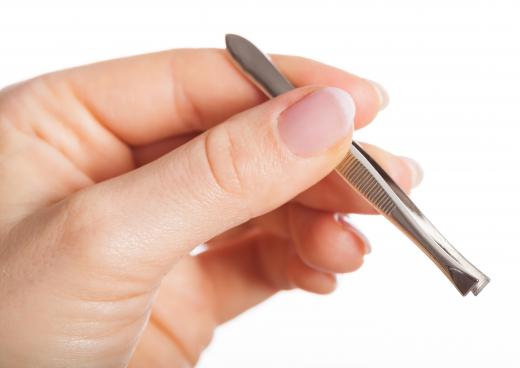 The false eyelashes, either individual or a full set, should never be glued directly onto a person's real lashes. If this happens, there is a good chance that a person's real lashes will come off along with the fake ones. It can take real lashes a very long time to grow back, so doing this should be avoided if possible. Once the false lashes are in place, they should stay put for at least a week, although this length of time may very depending on the type of glue that is used to apply them.
AS FEATURED ON:
AS FEATURED ON:






By: puhhha

Individual false eyelashes are not attached to a strip.

By: Photographee.eu

Some beauty expert recommend handling the false lashes with tweezers.