How Do I Go into Lean Manufacturing Management?
People who practice lean manufacturing are interested in adopting management models in which the smallest amounts of waste are created, both in materials and time, and in which there is room for continual change. Proponents of lean management understand that customer satisfaction is the most important factor, and as the needs and preferences of clients change, so do a company's processes. To get into lean manufacturing management, it first of all is important to get some formal academic training in basic management principles and practices, followed by some real world management experience. After becoming familiar with the regular operations of managers, it next is important to undergo official lean manufacturing management training and potentially to earn certification.
Aside from reducing waste, effective lean manufacturing management should lead to a work environment in which all employees, regardless of their roles, feel that they are important members of their organizations. Workers should be given voice when it comes to organizational and operational improvement. Likewise, employees in a lean manufacturing management model should be more efficient, enthusiastic, and well versed in a number of different skills.
Before learning specifically about lean manufacturing management, it is important first to learn some basic leadership principles. Even people who might seem to be natural leaders often can benefit from some training. By taking courses in public speaking, communication, and in basic managerial functions, such as demonstrating organizational policy and delegating tasks. While courses can be helpful for teaching basic concepts, an aspiring lean manufacturing management professional should get some real world experience as a manager or supervisor. It is important to be able to lead a team and inspire confidence in those around you.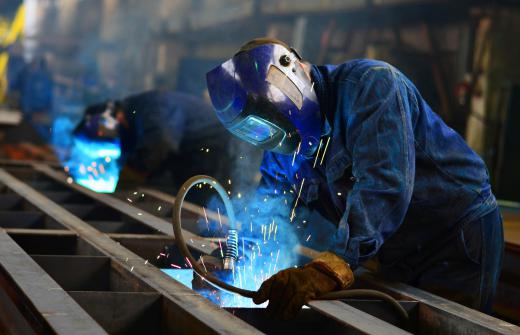 Once you have gotten some basic managerial experience, it next might be a good idea further to explore the tenants of lean manufacturing management. Look into official organizations that focus on key principles, such as the Sigma Six, which describes a body of knowledge that is common among people who follow lean manufacturing principles. Many of these organizations offer courses and also allow members to take assessments that enable them to earn lean management certification.
People who get into lean manufacturing management either already work as managers in the manufacturing industry or they are training to become manufacturing managers. Embracing a lean model requires the cooperation of all members of an organization, and in the manufacturing industry, it might also require the cooperation of the whole supply chain, including suppliers and distributors. If you are interested in applying lean management principles to your organization, you should discuss these ideas with high level management.
AS FEATURED ON:
AS FEATURED ON:






By: uwimages

Lean manufacturing managers work to reduce waste in their factories.

By: maxhalanski

People who manage a lean manufacturing process must have in-depth knowledge of statistical processes to ensure that personnel and equipment are used efficiently.

By: nmarques74

By defining, measuring, and analyzing a business's processes, the Six Sigma strategy can improve the effectiveness of a business's operations.