How Do I Become a Lean Manufacturing Manager?
The most important qualification to become a lean manufacturing manager is to have the understanding of how to make an organization's processes more efficient to save money. This position does not necessarily require formal education, though experience working in manufacturing is needed to be successful at the job. Many positions require knowledge of Six Sigma as well as other lean manufacturing management techniques to successfully complete projects.
A college degree is generally not required for this position but can help you become promoted more quickly within an organization. Consider obtaining a four-year bachelor's degree in industrial manufacturing, business management, or industrial engineering to become a lean manufacturing manager as fast as possible. A master's degree in business administration (MBA) can help open doors even more quickly in the manufacturing industry. During school, look for an internship in manufacturing to help with an entry-level position in the future. This can provide valuable experience, networking opportunities, and possible references to help you get hired.
Experience is necessary, regardless of whether or not you have a business or engineering educational background, to become a lean manufacturing manager. Most positions require anywhere from five to ten years working in the field to become a lean manufacturing manager. This is because the job is complicated and requires a lot of knowledge that can only be obtained working in production. You have to be able to understand complex manufacturing processes in order to streamline them into systems that save money and time for employees and the organization you are working for.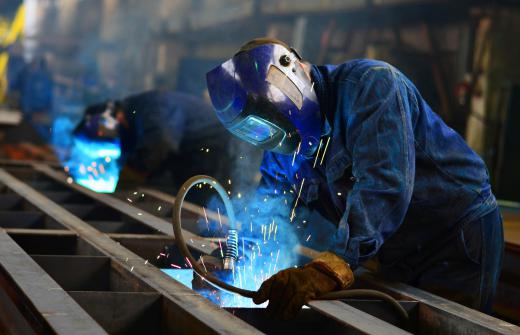 Some companies require that you become certified in process methodologies such as Six Sigma in order to become a lean manufacturing manager. This is a business management strategy that tries to eliminate errors in processes during manufacturing to help increase efficiency and raise profits. Since it is your job as a lean manufacturing manager to meet financial goals, having knowledge of these types of strategies can help you succeed at your job. Apply your knowledge of various strategies to save your company money.
Certain personality characteristics are helpful to become a lean manufacturing manager, such as being capable of fast problem solving and attention to details. Good communication is necessary to communicate your findings and solutions with upper-level management. You also need to be flexible and able to change your strategy if it is not working for the organization.
AS FEATURED ON:
AS FEATURED ON:






By: uwimages

Understanding the manufacturing process is key to knowing how to streamline it.

By: maxhalanski

People who manage a lean manufacturing process must have in-depth knowledge of statistical processes to ensure that personnel and equipment are used efficiently.