How do I get Started with Catering?
Catering can be a rewarding and enjoyable business, especially for those who love food and the challenge of adapting to a variety of different scenarios for cooking and serving food. Catering can also be a nightmare of details, combining the frustrations of waiting tables with the uncertainty of running a small business or restaurant. If you want to get started in catering, it is best to prepare yourself as much as possible.
Catering starts in the kitchen, where you must perfect your skills as a chef. If you have no cooking experience, start taking classes at a local college or community center to hone your skills. Presentation is often nearly as important as taste, so be sure to master knife and plating skills along with expanding your cooking repertoire. Ask friends if you can cater their parties for a little hands-on experience.
Although this business may begin with the food, it also requires a good head for business and excellent customer service. To train yourself to deal with tricky customers, start waiting tables a few nights a week, or try to get hired as a bartender or server with an established catering company. A few months working hard in the business will give you a wealth of experience and help to prepare you for being in charge.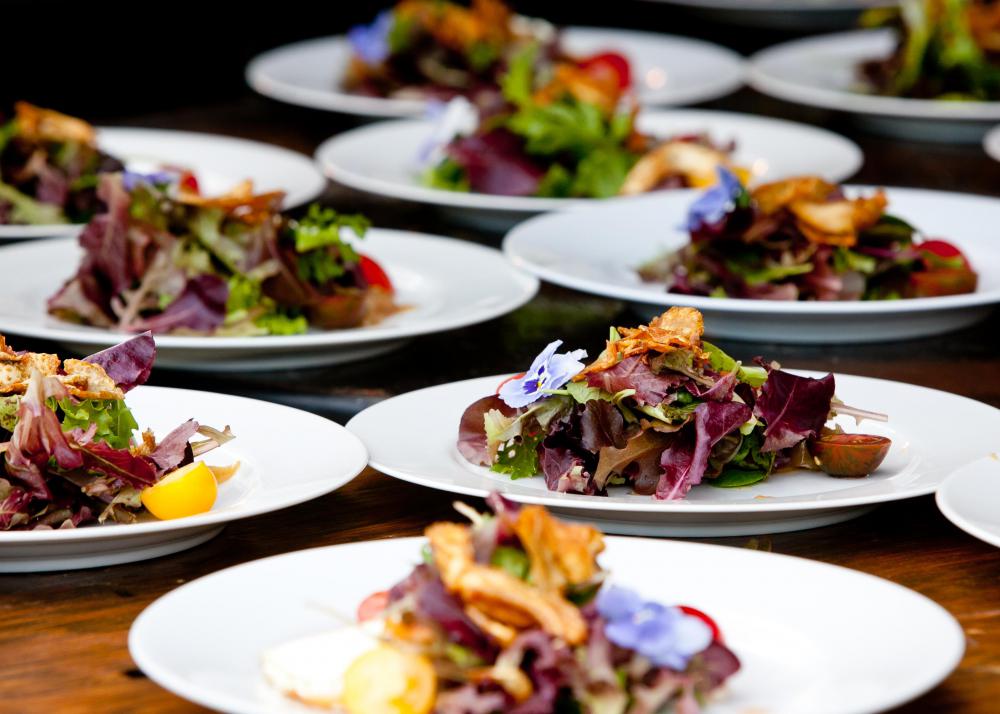 While the idea of making and serving beautiful food may be appealing, you must have a firm grasp of business in order to survive in the catering world. Take introductory classes on bookkeeping, and be sure to study all local and state laws regarding the sanitation and preparation of food. Nothing will ruin a new company like a citation for health violations.
As you are starting your business, try to form relationships with local grocers and people in the food industry. Not only can this help you get better deals in terms of price, you may quickly find out where to get the most fresh and high quality produce and goods available. Be certain to give out business cards to new acquaintances, but don't be too pushy.
Consider speaking to local bakeries and coffee shops about having some of your special products for sale. If you make a to-die-for cinnamon roll that sells out by 10 a.m. at the nearby java joint, it will likely point customers in your direction. Offer shops a good deal on your products in return for a big sign saying the treats were made by your kitchen. Tasting is believing, and a great product will attract clientele faster than any billboard or flyer.
Catering is difficult, or even impossible, to do by yourself. Consider taking partners in the business as quickly as possible. If you have no head for business, try to team up with a buddy who may not cook as well but can determine budgets faster than you can knead dough. Also, try to build relationships with other party services such as florists or wedding cake bakeries; if you can promote one another's services to clients, everyone benefits.
Be prepared, financially and emotionally, for some failure. Catering businesses can take several years to get off the ground, and you must be able to stay in business until you can turn a profit. If you truly have a gift for food and service, tough it out as long as possible. Good caterers are hard to find, and you may be the one we've all been looking for.
Bartending can give a person relevant experience to work in catering.

Starting a catering business will require hiring servers.

A chef at a catering company typically creates a special menu that showcases his areas of expertise.

Some caterers started out as home cooks who begin their businesses by preparing food for family and friends.

Joining the wait staff of a catering company is one way to break into the industry.