How do I Choose the Best Wedding Chair Covers?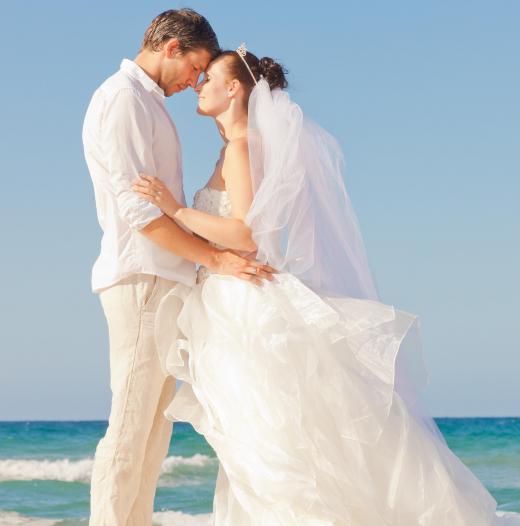 Choosing the best wedding chair covers is not a difficult process, but you will need to decide on a color scheme and budget before renting or purchasing. Most people tend to choose wedding chair covers that match the overall theme of the wedding, or at least complement the color scheme of the table linens, flowers, and other decorations. You can choose to do the same, or you can break with the overall theme and choose wedding chair covers unique to your style and wedding ideas. Remember to choose covers that will fit properly over the chairs you choose and that are within your reasonable budget.
The wedding chair covers you choose will only be used for one day, or two at most, but they will still need to be somewhat durable and ready to stand up to wear and tear. If you are starting a wedding rental business and plan to reuse the wedding chair covers over and over again, be sure to choose high-quality material that can be cleaned easily and will stand up to regular use and possible damage. Guests will inevitably spill drinks or food on the wedding chair covers, so being able to remove the covers easily and replace them when necessary is also a must. Make sure the covers are machine washable and either wrinkle-free material or able to be ironed easily.
You have two general choices when choosing wedding chair covers: prefabricated or custom covers. Custom covers are likely to be moderately more expensive than prefabricated covers, but getting custom covers will allow you to tailor the covers to your unique specifications, adding a touch of personalization to the wedding decor. If custom covers seem like too much work and too much cost, most prefabricated covers are quite attractive and much easier to deal with in terms of rental and design. Choose a cover that complements your wedding theme and colors, and be sure to choose covers that will fit securely over the chairs to avoid shifting during use.
Most rental companies can supply chair covers, so be sure to inquire about them when you rent tables, chairs, and tents. They are usually inexpensive to rent, but remember that the more you rent, the more the overall cost will become. It helps to order matching or complementary table linens and chair covers; while ordering white chair covers is certainly an option, darker colors may be a better choice to mask dirt, grime, and spills that are inevitable during a wedding ceremony and reception.


By: detailblick

A couple getting married.