How Do I Choose the Best Single Fathers' Support Group?
Choosing the best single fathers' support group should be based on finding the one that best fits in with your needs. The meeting days and times will have to suit your schedule, but also look at each group's main focus. For example, some support groups for single dads are mainly concerned with helping the parents with legal problems such as custody and child support issues. Other groups mostly offer advice and an exchange of ideas among group members, while some involve the parents and kids in outings or activities. Considering your main reason for joining a single fathers' support group can guide you in choosing the right one for you.
If you're new in the area or want to meet similar families in the neighborhood, joining a group with activities for parents and children may be a good idea. Weekend picnics, sports games or other family events can help entertain your kids while also allowing you to interact with other fathers. If your children will be attending the local schools, they may be able to get to know other kids of single fathers before starting classes which may make them feel more comfortable about starting school. Try to ask ahead about outing dates for this type of single fathers' support group so that the days won't interfere with other activities you've promised your children.
If you're grieving over a deceased spouse, or a relationship that ended before you wanted it to such as your wife and the kids' mother abandoning the family, there are usually single fathers' support groups that focus on this. This type of support group may help you better come to terms with the situation and help you heal by sharing your thoughts and experiences with others going through similar issues. It's best to choose a group therapy situation led by a psychologist or other professional.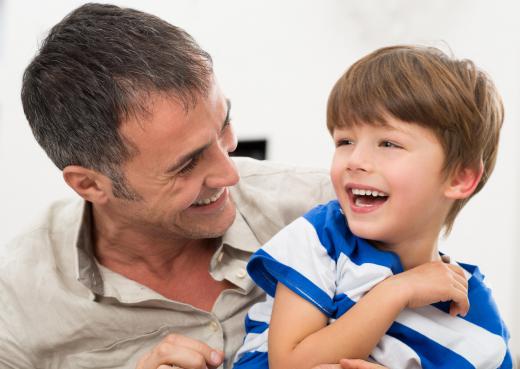 Look for a single fathers' support group headed by a reputable family lawyer if your main reason for joining is to get solid legal advice. Rather than just this person's knowledge alone though, look for a legally focused group that offers access to other information sources so you can research different options on your own. A wide range of up-to-date legal information can help you understand what child support payments and visitation or custody arrangements would be fair.
Before joining any type of single fathers' support group, make sure you're able to commit to attending the meetings and events. If you're somewhat apprehensive about joining and attending regularly in-person, it may be a good idea to look for an online version. Some single dads' support groups have both an online forum as well as an in-person meeting schedule, and this may work out well for your needs.
AS FEATURED ON:
AS FEATURED ON:






By: Monkey Business

Single fathers' support groups may help dads deal with legal problems.

By: Rido

Whether single through death of a spouse or divorce, single fathers can find support groups suited to their situations.