How Do I Choose the Best Shutters for French Doors?
If you are considering buying shutters for French doors, you may find you have a lot of decisions to make during your shopping. For example, you should first make sure the shutters you choose fit your French doors, with any necessary cutouts for the handles to ensure that you can still access them as needed. You then should decide on the best material, whether it be the popular wood, faux wood or vinyl or another material. A final consideration to make is the color of the shutters, which likely will make a big difference in the appearance of your French doors.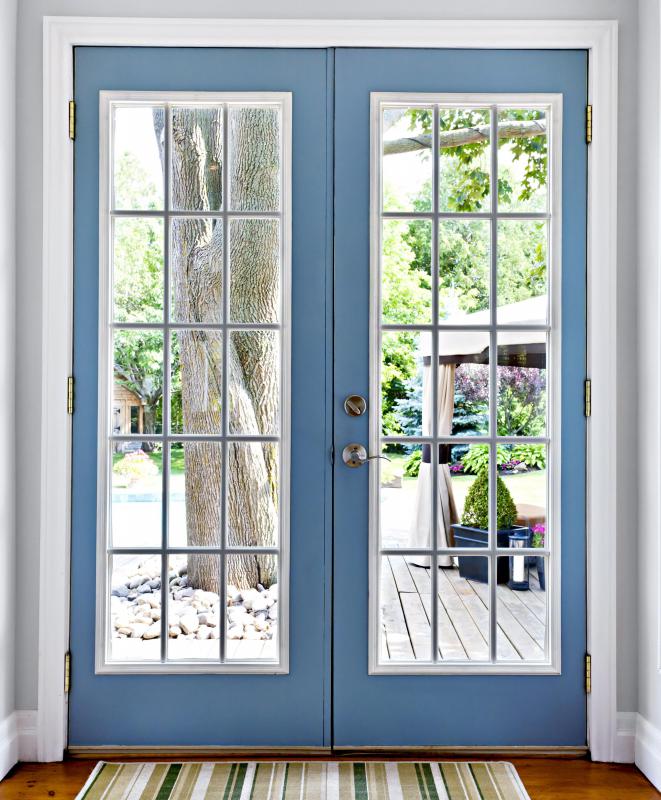 Among the first details to think about is the size of the shutters for French doors, because they likely will look nicer if they fit properly. Some companies sell just a few sizes, so you may need to find the measurements that most closely match your French doors. You may be able to buy custom shutters for French doors, which usually involves sending a company the measurements of your doors so the product you get fits perfectly, though this often is the more expensive option. When browsing shutters, you also should consider whether you need cutouts for the handles, because this can keep your door handles from being blocked and inaccessible.
You also should choose the material that you prefer when buying shutters for French doors. Wood is quite popular and often is known for looking elegant, but this material can be expensive and not as durable as other options. If you are on a budget but like the look of real wood, then faux wood may be a good choice, especially because it usually is difficult to tell the difference between the two materials until you get very close. Another budget-friendly option is vinyl, which usually is inexpensive and easy to keep clean, because it can be wiped down and is not susceptible to mildew or rot the way wood is. You should consider both the look you want for your house and what you can afford when you buy shutters for French doors.
Another detail that will likely affect the look of the shutters is the color you choose. White and dark green tend to be the most popular shades for shutters in the United States, but they are far from the only choices. Some companies present several color options so you can get the exact look you want. You may choose to keep your shutters for French doors neutral, in which case beige may work, while a more natural look usually can be achieved by keeping wood shutters unpainted so the original shade of brown can be seen. The choice should depend on both your color preferences and the shade of the walls and window coverings in the home or office.