How do I Choose the Best Scrapbooking Materials?
Choosing the best scrapbooking materials likely will depend on your preferences, your scrapbook's theme and the amount of time you have to create a scrapbook. You can purchase many types of scrapbooking materials separately at an arts and crafts store, or you can opt to buy a scrapbooking page kit that includes preselected materials with which to work. Another option is to create an online scrapbook, which will require you to work with digital images.
Embellishments often are what scrapbookers purchase when looking for scrapbooking materials. Stickers, ribbon, brads, buttons, tags, eyelets, die cuts and templates are some of the most popular embellishments that you can buy. The design and size of preferred embellishments are left up to taste, but you can't go wrong with choosing embellishments that complement your personal scrapbook's theme.
Some embellishments will require the use of additional tools. Eyelets, for example, need to be applied using a special eyelet tool. You should make sure that all potential embellishments are archival-safe and acid-free before including them in your scrapbook.
If you're a scrapbooker who is looking to save time and quickly create a scrapbook, you can purchase a page kit. Scrapbook page kits are bundled kits that come with everything you need to make a scrapbook. Many people prefer to use page kits because, with premade pages and included embellishments, they take the guesswork out of making a scrapbook. Page kits can be available in themes, in case you want to purchase one that can display materials of a specific event, such as a wedding, graduation or birthday.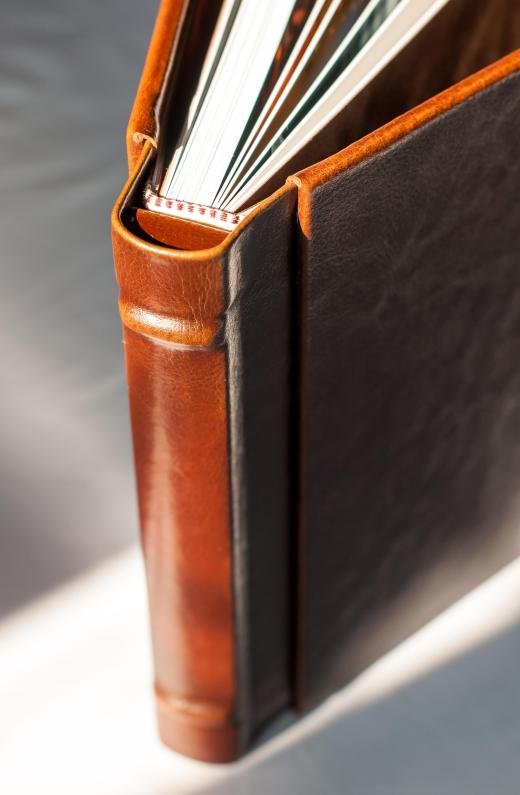 Of course, the need for physical scrapbooking materials can be negated by opting to create an online scrapbook. Online scrapbooks are digital scrapbooks that can be made on a computer and are designed to be shared virtually. You'll still have to select scrapbooking materials, but the materials will be digital and in the form of images and clip art. Selecting high-resolution images that go with your scrapbook's theme can result in a scrapbook that appears to be wonderfully put-together.
If you'd rather invest in scrapbooking software that can help you create and print out scrapbook pages, you'll have to decide on software to use. Software that has large databases of themes, background pages and textures can give you many options from which to choose. You also should look for software that contains many elements, such as brushes, buttons, fonts and word art. Look for programs that have clear instructions or tutorials. In addition, make sure to choose an application that is compatible with software and hardware that you already have.
AS FEATURED ON:
AS FEATURED ON:






By: terex

Scissors for scrapbooking.

By: SilviuFlorin

The pages of a scrap book might incorporate a wide variety of materials.

By: virinaflora

Clip art, such as emoticons, may be used in scrapbooks.

By: Monkey Business

Scrapbook making typically involves using colored paper, photos and stencils.

By: nito

Fabric is often used in scrapbooking.

By: Sergey Mostovoy

Twine, clothes pins, and card paper are examples of items that can be found around the house and repurposed for scapbooking.