How do I Choose the Best Portable Car Seat?
The many varieties of portable car seat models on the market can make choosing the right one a difficult process. A good place to start is by researching the different brands and models on the market by doing an Internet search and reading customer reviews about each model. Keep in mind that you are likely to encounter at least one bad review for just about every model you research; try to ignore reviews that give bad feedback for less important aspects, such as the color of the unit. Once you have done a bit of research on different portable car seat units, decide what your budget is and narrow down your search.
Any portable car seat you choose should be easy to install and remove from the car quickly and smoothly. The system by which the seat secures into the vehicle should be easy to understand and operate, and the harness system that secures the child to the seat should also be easy to use and secure. Be sure to look for a portable car seat that can be secured into the back seat in both a forward- and a backward-facing direction; infants should face backward, and toddlers should face forward, depending on their body weight.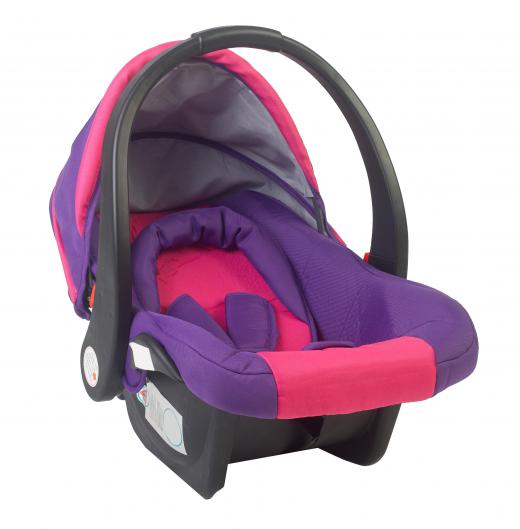 The advantage of a portable car seat is its ability to be removed from the car easily and used as a baby carrier. Make sure the car seat features a sturdy and comfortable handle that you can use to carry a child sitting in the car seat when it is not affixed inside the car. The handle should be adjustable to accommodate different carrying positions, and it should swing back into the frame of the car seat when not in use. The frame of the car seat should be stable and lightweight enough to be carried comfortably when not in the car. Some portable car seat models integrate into a stroller frame for even more convenience and comfort. These models will cost more, but they may be worth it for parents on the go.
Safety is, of course, the most important aspect of any portable car seat. Examine the construction of the seat and make sure there are no choking hazards present. The chest strap for the child should be adjustable and able to cinch down snugly over the child. Never buy a used car seat, and avoid purchasing a car seat that has been in a car accident before.
AS FEATURED ON:
AS FEATURED ON:






By: ramzi hachicho

A portable car seat can be removed from the vehicle and used as a baby carrier.