How Do I Choose the Best Ponytail Hair Piece?
Before choosing a ponytail hair piece or extension, consider a few important factors. It's essential to choose a color for your ponytail hair piece that closely resembles your natural shade of hair. Ask a sales consultant for advice if you're uncertain. You should also choose a hair extension that is easy to maintain and clean. You can choose synthetic material or natural hair for your ponytail hair piece, each of which has its own advantages.
If you want to add volume to thin hair, choose a ponytail hair piece with highlights. Highlights in a lighter shade than your own natural color will add dimension to fine hair. You can choose one- or two-piece clip-in extensions for your ponytail extension.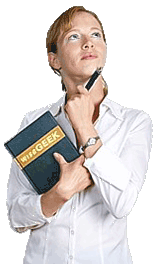 Decide whether you'd prefer a straight hair style for your ponytail hair piece or an extension with curls or waves. If your hair is fine or lacks body, a curly style ponytail extension can add the volume you desire. If you have wavy hair that is unruly or naturally thick, choose a ponytail hair piece with a slight wave to complement your hair's natural waviness.
Some ponytail hair extensions convert from straight to wavy. Convertible hair pieces typically are made with a built-in clip that can easily be adjusted to change the style of the wig. These types of hair pieces are generally medium length to long.
Choose a hair piece that is made with high quality materials and avoid buying one from your local department store. Inexpensive hair pieces are often poorly made. To be sure you're getting a good quality extension, buy your piece from a beauty supply store or wig distributor. The attachment should also come with some type of warranty to protect against defects.
If you would prefer to style your clip-on ponytail, be sure the fibers can endure the high heat of a curling iron or hair crimper. You'll also want to be sure the synthetic fibers will not tangle after styling or washing. Feel the fibers and notice if they are smooth or rough.
When shopping for a ponytail hair extension, it might be difficult to find an exact match of your hair color. If you cannot find a synthetic ponytail hair piece that matches your hair color, consider buying a human hair extension. A hair extension made of human hair may be dyed in the color of your choice, without damaging the ponytail hair piece.
AS FEATURED ON:
AS FEATURED ON:






Woman holding a book