What Are the Best Ideas for a Formal Ponytail?
Many people think of a ponytail as a simple, casual style for an everyday look, but there are many ways to make a formal ponytail as well. The best part is that most of these styles do not take much extra time. Most people find that the best way to begin making a formal ponytail is to gather the hair either at the back of the head or low, at the nape of the neck; higher ponytails tend to look more casual. They may then be curled, flipped over to give the appearance of a sleek knot, or styled with some lift on the crown of the head for a more stylish look. Many people add hair bands or clips for more formality as well.
It is important to start with dry or nearly dry hair when styling a formal ponytail. Though it may be tempting to simply tighten sopping wet hair into a ponytail, this will dry very flat to the head and will not look formal at all. Instead, drying the hair and making sure it is sleek and smooth, often with the use of some smoothing cream or shine spray, will be the best place to begin with a formal ponytail, and to keep the hair from frizzing.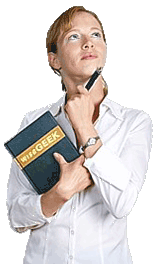 The next step is choose a style. One simple way to style a sleek, formal ponytail is to carefully brush the hair into a ponytail directly at the back of the head, and secure it with a hair tie. Then, pull one narrow section of hair from the ponytail, wrap it around the base, and pin it. This will make it look as if the hair is seamlessly held in place. To make it more formal, some people will leave side bangs out in order to soften the face, or brush the hair slightly up at the back of the head to add volume and lift.
Low ponytails are very formal as well. These may be styled similarly; the hair may then be curled, or it may be divided in two sections and then pulled back through the base of the ponytail, which will give it a unique "twisted" look. Some people prefer a side ponytail for a more formal look as well. The addition of a stylish hairband or clip can make a formal ponytail look even fancier. These hairstyles are quite versatile, and will often be able to last all day, unlike some other formal hairstyles.
AS FEATURED ON:
AS FEATURED ON:






Woman holding a book