How Do I Choose the Best Phlebotomy Technician Training?
Students seeking phlebotomy technician training may want to consider specific requirements to work in a given area, why they are taking the class, and ease of class attendance. These can all be factors in deciding where to take a course to learn phlebotomy, refresh skills, or meet continuing education requirements. Such courses can be open to people who want jobs specifically as technicians as well as nurses, paramedics, and other medical professionals who may need to draw blood as part of their work.
One important consideration is what kind of training may be required to be on the job. People can consult a regional agency or professional organization of phlebotomists to find out if they need a license, certification, or a certain number of hours to draw blood. This information can help them locate phlebotomy technician training that will meet or exceed these requirements so they will be ready to practice. It can help to specifically attend an accredited school with a good reputation so there will be no doubt about the validity of the training.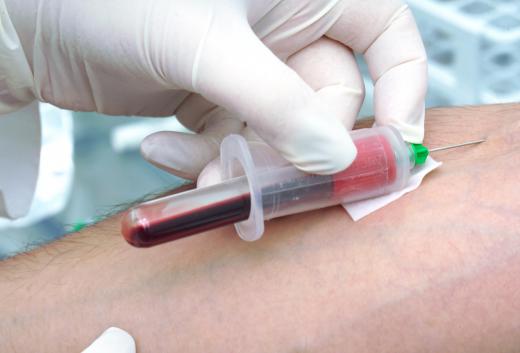 Another factor can be why a student needs the training. Someone with no experience who wants to be able to draw blood for hospitals, clinics, and other environments needs a complete and detailed course that should include first aid, biohazard training, and basic health care topics. This training can be important when the student prepares to learn to draw blood. People like working nurses and paramedics looking for training or a refresher might be better suited by a short course that provides them with instruction focused on blood draws only.
The structure of a class can also be important. People preparing to take phlebotomy technician training need to ideally be able to attend every class, which means they should check the class schedule against other commitments. If the timing of classes is inconvenient, it may be necessary to consider a different program. Students might also want to think about issues like transportation to and from class. With intensive courses where people are in training for long blocks, people may want to consider how they will make arrangements to eat, and whether they will be able to concentrate throughout each intensive session.
It can also help to review word of mouth recommendations for phlebotomy technician training. These can include reviews posted by students and graduates to provide information about the quality of education offered. People who know working phlebotomists can ask them where they learned, whether they liked the phlebotomy technician training and if they felt it prepared them for work.
AS FEATURED ON:
AS FEATURED ON:






By: Tim UR

The best phlebotomy training programs offer in-depth instruction, including hands on experience with patients.