How do I Choose the Best Phlebotomy Classes?
There are four things to consider when looking for the best phlebotomy classes: small class size, qualified instructors, accreditation, and hands-on learning. Phlebotomy classes are available from a wide range of community and career colleges. A phlebotomist draws blood from people for tests and blood donations. They are also known as venipuncturists.
People who enjoy phlebotomy classes are naturally outgoing, don't mind the sight of blood, and are looking for a short training program that will help them find employment opportunities. Upon graduation, students can find employment in laboratories, doctor's offices, hospitals, and blood donation clinics. A phlebotomist is usually required to work days, evenings, and weekends. Very few are asked to work overnight shifts, but this can occur in a hospital setting.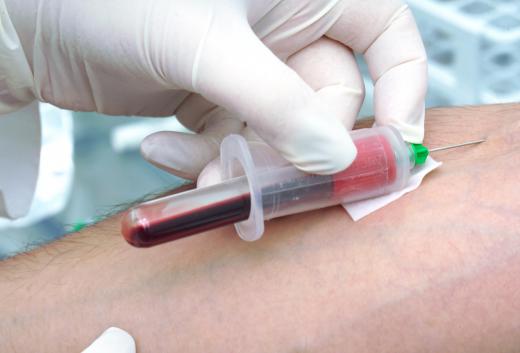 Phlebotomy classes provide a combination of theory and practical skills about drawing and storing blood, the circulatory system, and blood diseases. The lower the number of students in the class, the more individual attention the instructor can provide to each student. It is important to practice the techniques taught in these classes, as they will be used on actual patients after graduation.
Phlebotomy classes should be taught by qualified instructors who are experts in their field. Most courses are taught by instructors who were originally trained as nurses. Practical experience is much more important than academic credential in this field, as long as the instructor is knowledgeable about blood transportation, storage, and the circulatory system.
When reviewing the phlebotomy course options, it is important to ensure that the school is accredited. An accredited school has been reviewed by an independent agency to ensure minimum standards are met. In addition, only courses from an accredited school can be used toward a phlebotomy certificate.
Many phlebotomy courses use mannequins to allow students to practice their techniques. The best phlebotomy course will be affiliated with a medical laboratory. Students may have an opportunity to practice their technique under the supervision of their instructor. These placements may be unpaid, but the experience is well worth it.
People who complete phlebotomy courses often return to school to upgrade their skills, on average three to five years after graduation. The most common program career choice is to become a medical laboratory technician or a practical nurse. Some of the courses completed for the phlebotomy program can be applied to both these programs, reducing the length of these programs. There are very limited career advancement opportunities for a phlebotomist, which is the driving force behind the need to return to school.
AS FEATURED ON:
AS FEATURED ON:






By: Tim UR

The best phlebotomy schools offer extensive training, including hands on experience with patients.