How Do I Choose the Best Oil Free Concealer?
Choosing the best oil free concealer comes down to the amount of coverage that is desired as well as what areas of the skin need to be concealed. Many who suffer from acne breakouts search for an oil free concealer to cover blemishes while preventing additional pore blockage. Others with excessively oily skin may want to cover under eye circles, age spots or other imperfections. Oil free concealer comes in many different forms, including stick, cream, mineral, and liquid.
Before choosing an oil free concealer, an individual will want to determine how it will be used and what benefits she would like to see. Coverage is an important consideration since concealer may be used alone or worn under foundation. Concealers that provide slightly less coverage may be more appropriate for those who like to wear foundation. If worn under foundation, concealer should be one shade lighter than the foundation in order to blend in.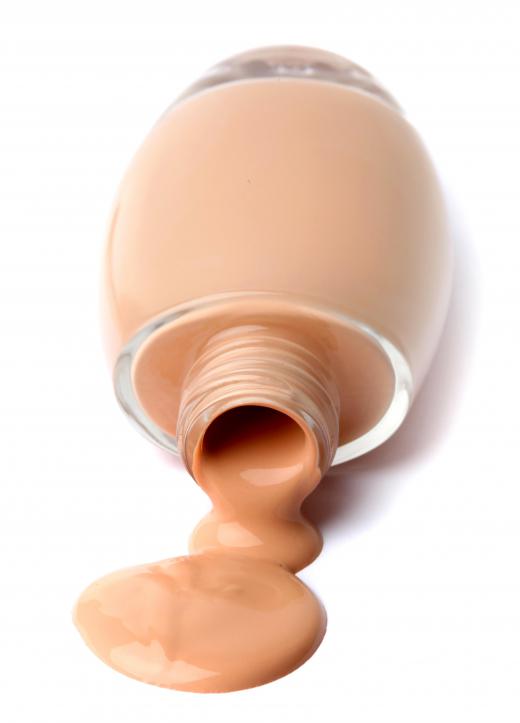 Shade is an important consideration when choosing a concealer. Some manufacturers label them according to skin shade, such as "light or fair," "medium" and "dark." Others use a numbering system that coordinates with shades that are featured in their foundation and powder lines. If concealer is being worn without foundation, it should match the skin tone and provide a heavier coverage. Oil free cream and stick based concealers can help achieve a greater amount of coverage.
Liquid oil free concealer is the most prominent form and can be applied with makeup sponges, fingers, or with an application wand. For those who suffer from blemishes, there are some concealers that contain salicylic acid that helps prevent and heal breakouts. Some are specifically formulated to reduce signs of redness and inflammation and may help these spots clear up faster.
Those who are concerned about oil absorption might choose an oil free concealer that is designed to prevent excess skin oil. These concealers typically lack heavier synthetic ingredients and are allergen free. They can be good for individuals who have both sensitive and oily skin.
There are some oil free concealers that come in a mineral based form. Mineral makeup can be quite beneficial to sensitive or acne prone skin. The coverage does tend to be less complete, but it also has a light feel, almost as though the skin is makeup free. Irritation and further skin irritation is highly unlikely with a mineral based concealer.
In addition, there are some oil free concealers that are designed specifically for certain types of coverage. If under eye circles or bags are a concern, there are concealers that target these areas and provide illumination to diminish the appearance of darkness under the eyes. Sunscreen protection is another side benefit offered by some forms of oil free concealer, which is especially helpful for those who need to cover age spots or freckles.
AS FEATURED ON:
AS FEATURED ON:






By: cedrov

Oil free concealer.

By: Cheryl Casey

Oil-free concealers should cover blemishes without clogging pores.

By: WONG SZE FEI

There are some oil free concealers that are designed to treat darkness under the eyes.