How do I Choose the Best Modular Home Manufacturer?
When you're looking for a modular home, it's important to research different manufacturers' products to find the best value for you. A good way to start is by looking at different modular home plans and noting the manufacturers' name on the ones you like best. You may notice a pattern both in the styles each modular home manufacturer offers and the type of floor plans you prefer. Once you have a list of finalists, you can then research each manufacturer and compare prices of the homes you're interested in to discover the modular home manufacturer who offers the most value for your budget.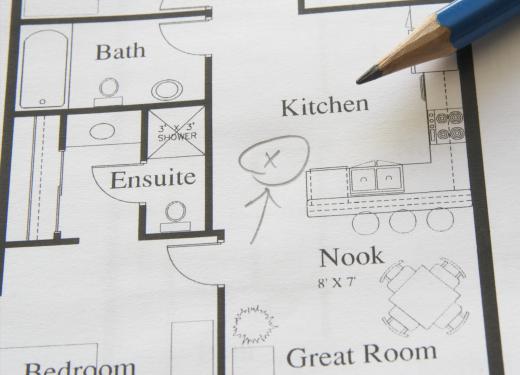 Compare what you get for your money with each modular home company's offerings. The size of certain rooms in the home may not be as important to you as the floor plan. For example, some modular home manufacturers' designs may tend to feature smaller bedrooms, but if you think about your lifestyle and realize you'd get more use out of the extra space in the living areas, such as a bonus room you could use for an office or computer room, it may be the best choice after all. It's crucial to realize what your needs and wants are in terms of picturing yourself actually living in a modular house and then try to find the modular home manufacturer that can best meet them.
Home buyers looking for traditional houses must also usually make a compromise. It's a good idea to identify features you must have from those you're willing to be more flexible on. Compare home features between manufacturers; extra-large closets and bathtubs may be standard for one manufacturer, but considered an upgrade by another. Try not to end up paying extra for features you don't necessarily want. Don't become so concerned with cosmetic features of modular homes without also finding out what types of plumbing pipes and insulation different manufacturers use.
Contact modular home manufacturer representatives at their showrooms with your questions. You may also be able to arrange for a factory tour so you can find out firsthand how different modular home manufacturers build the houses. Unless you're specifically looking for a new manufactured home only, company representatives may be able to help you with a good deal on one of their previously owned models. You may be able to negotiate the cost of either a new or used manufactured home if the company is aware that you're deciding between purchasing from them or their competitor depending on who offers you the best price.


By: benik.at

With each modular home company's offerings, people should compare what they get for their money.

By: S. Rogo

The size of certain rooms may not be as important as the general floor plan.