How do I Choose the Best Cystic Fibrosis Treatment?
Cystic fibrosis is a medical condition that is characterized by a buildup of thick mucus in the lungs and the digestive tract. There are a variety of cystic fibrosis treatment options available, depending on the specific symptoms of the individual. Finding the best cystic fibrosis treatment methods may involve some trial and error, as each patient will respond differently. Some of the more common cystic fibrosis treatment options include the use of prescription medications, therapy designed to remove mucus from the lungs, or surgical intervention. Lifestyle changes or the use of a feeding tube may also be implemented.
Prescription medications are often used as a part of cystic fibrosis treatment. Antibiotics are commonly used to prevent or treat lung infections. Medications may also be used to thin the mucus in the lungs. This helps the patient to more easily cough up the mucus and may help to promote healthier lung function. Medications known as bronchodilators are delivered into the body through an inhaler or nebulizer in order to keep the lung passages open.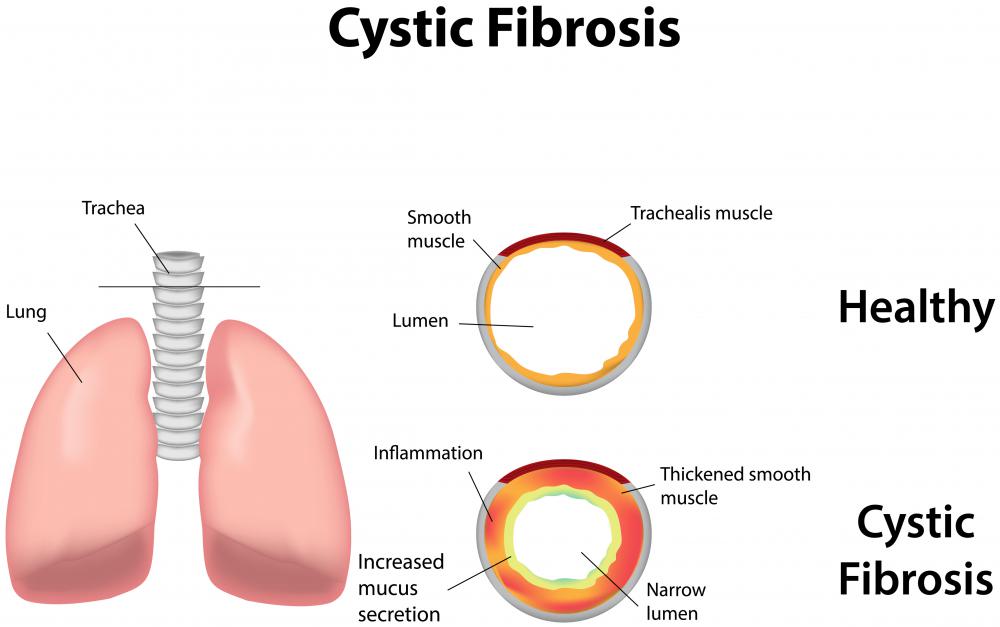 Manual or mechanical cystic fibrosis treatment methods are needed in order to remove the mucus from the lungs. Manual therapy involves cupping the hands and then clapping the front and back of the chest area with the hands. This method often works best when the patient can lie the head over the edge of a bed. This position allows gravity to help clear the secretions from the lungs.
There are several mechanical cystic fibrosis treatment options available. A chest clapper is a a hand-held device that imitates the manual chest-clapping technique. An inflatable vest is a device that vibrates at high frequency levels in order to help loosen the mucus in the lungs. Various types of breathing devices are available to help the patient perform breathing exercises that can help to strengthen the lungs.
Cystic fibrosis can often create digestive problems. When this occurs, a feeding tube may become a necessary cystic fibrosis treatment method. Often, the feeding tube is used at night while the patient sleeps in order to deliver extra nutrition to the body. If breathing problems become severe and significant lung damage occurs, a lung transplant may become necessary. Intestinal surgery is sometimes needed, especially if digestive disturbances lead to an intestinal blockage.
Cystic fibrosis treatment may include lifestyle changes such as quitting smoking or getting plenty of physical exercise. Eating a healthy diet and increasing fluid intake may also be helpful. Frequent hand washing by everyone in the family can often reduce the risks of developing an infection.