Dornase alfa is an inhaled prescription medication that is used to improve lung function in those with a medical condition known as cystic fibrosis. This drug is used to improve air flow by thinning lung secretions and is used in combination with other medications such as antibiotics or steroids. Possible side effects of dornase alfa include throat irritation, voice changes, or the development of a skin rash. Serious side effects that should be reported to a doctor immediately include chest pain, difficulty breathing, or swelling of the throat or tongue. Specific questions or concerns about the use of dornase alfa or its possible side effects should be discussed with a doctor.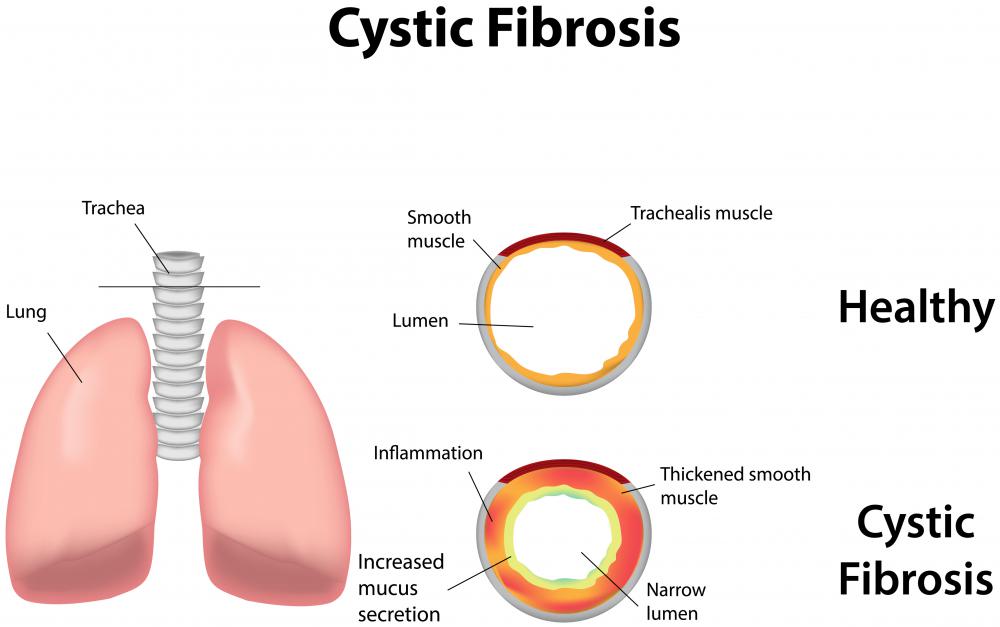 Cystic fibrosis is a genetic disease that can cause a variety of lung problems, including potentially fatal infections. Dornase alfa may be prescribed for those with this condition in an effort to break up thick mucus secretions and make it easier for the patient to breathe. Antibiotics, inhaled steroids, and other medications are often used in combination with dornase alfa in an effort to control the symptoms of cystic fibrosis.
Side effects of dornase alfa are typically mild and do not pose any significant health risks to the patient, although any persistent or bothersome symptoms that develop after beginning treatment with this medication should be discussed with a doctor. Minor throat irritation is the most frequently reported side effect, and this symptom usually goes away within a matter of minutes of each inhalation. Voice changes and eye irritation may also occur when using this drug.
A mild skin rash is not usually anything to worry about when taking dornase alfa, although increasing pain, redness, or swelling should be evaluated by a doctor. Peeling skin or the development of blisters may indicate an allergic reaction to the medication. Most allergic reactions to this drug are not serious, but any potential symptoms of an allergy should be reported to a medical professional to be certain. If an allergy is suspected, the medication should be discontinued right away unless otherwise directed by the prescribing physician.
Occasionally, a potentially fatal type of allergic reaction known as anaphylaxis may occur when using dornase alfa. Symptoms may include chest pain, difficulty breathing, or a partial or complete loss of consciousness. Swelling of the tongue and throat may inhibit oxygen flow to the brain and other tissues of the body. This lack of oxygen can lead to brain damage or death within a matter of minutes without emergency medical assistance.