How Do I Choose the Best Business Workshop?
To choose the best business workshop, first define what you hope to get out of it. A workshop taken for personal development reasons may be very different from one you'd need to take to gain specific work or industry knowledge. Make sure the date, time and location work with your schedule. The workshop's content should relate to your career objectives or those of the company you work for if you're choosing a workshop for employees to attend. Other considerations to make when picking a business workshop to attend is the cost in relation to the value you perceive it to have.
For instance, a workshop fee may at first appear high, but when the costs are broken down to reveal it includes much needed training for employees at a much lower overall price than hiring a corporate trainer, the value may justify the expense. An inexpensive business workshop may offer only a chance for an outing for employees, but this may also be perceived as having a high value if your objective is to further group bonding as part of a work team. To help you keep within your personal budget or a company's training allowance, look for programs with bulk or group rates for the best value.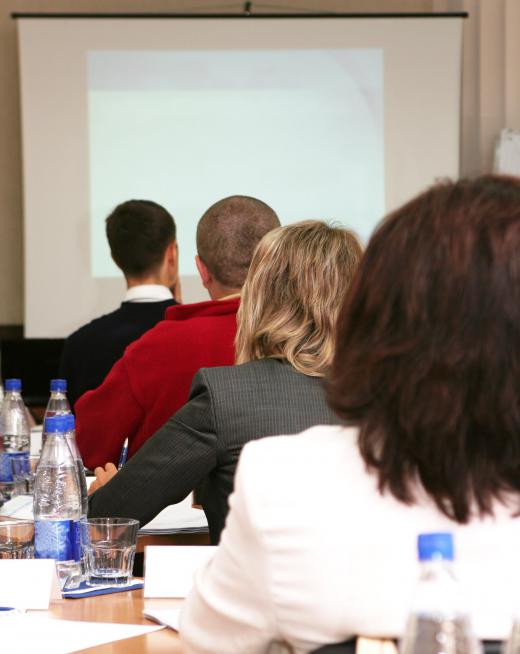 If you're at a convention and only have time to attend a few business workshops rather than all of the ones you'd like to, you may want to base your choice on which events will allow you to network the most effectively as well as take relevant information back to your office. If your company or the business you work for is a member of the organization holding the convention, you may be able to get a discounted rate on any workshops that aren't free to attend.
Always keep your supervisor's or manager's performance expectations and knowledge requirements in mind when choosing a business workshop. If your goal in taking the best business workshop is to feature its completion on your resume to help you find a job, keep the objectives most associated with your desired position in mind. You may even want to ask potential hiring managers which kind of business workshops as well as other training experiences they prefer candidates to have. If you want to find the best employee workshops, you may want to ask department heads or other managers for suggestions of which training companies to contact.
AS FEATURED ON:
AS FEATURED ON:






By: Dmitry Goygel-Sokol

Business workshops are often designed for specific industries.

By: Deklofenak

The knowledge requirements of the supervisor should be kept in mind when choosing a business workshop.