How Do I Choose the Best Blush for Fair Skin?
There are several challenges to selecting the right blush for fair skin. The first is finding a blush that will not look overdone or artificial on a light complexion. On the other hand, it is important that a blush for fair skin provides enough color so as to keep a person from appearing pale or to provide some kind of contour for the face. Many people who have fair skin appreciate lightly pigmented blushes that can be layered according to their own needs. Other considerations include formulation preferences, the color of a particular blush, as well as its cost.
When you begin your search for a blush for fair skin, do not select a product simply by the way it looks in a package or display. Everyone's skin is different, and you may find that the color does not look the same on your skin. When possible, try out the blush first before making a purchase. If you can't do this, find out about the retailer's return policy so that you can return or exchange a blush that does not suit your skin.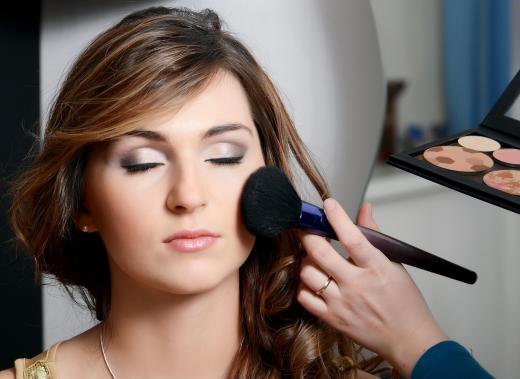 Pay attention to your skin tone. If you have cool undertones, use a blush with blue pigments. On the other hand, if you have a warm complexion, choose a blush with yellow or gold pigments. You should also take into consideration your hair and eye color. Some beauty experts suggest exercising for several minutes and then looking at your face in the mirror to get an idea of what a natural blush looks like for you. You can then try and find a blush in this color for the most natural look.
If you have a preference for cream or powder blush, be sure to select the formulation that you prefer. Some individuals with fair complexions also have dry skin. This can cause cream blushes to fade into the skin, making it difficult to get the look that you want. You may find that a powder blush has more staying power.
When selecting a blush for fair skin, don't overlook the importance of choosing a good applicator brush. Learning how to use a blush brush correctly can make a huge difference in controlling the amount of blush that ends up on your face. If you can control the application amount, you can greatly improve the appearance of the blush on your skin.
AS FEATURED ON:
AS FEATURED ON:






By: Vladimir Voronin

Blush enhances the cheekbones.

By: Thomas Francois

A blush's appearance on skin may be affected by the applicator brush.

By: Marina Karkalicheva

People with fair complexions often look good in a light pink blush in the peach or coral family.